YouTube is still the most watched online video platform in the world, but Facebook is now ranked second, according to new research from Ampere Analysis reported on DTVE. The gap is still sizeable, according to the researchers' "Top Online Video Services Barometer," with YouTube attracting more than twice as many eyeballs as Facebook. But Facebook has now grown past Netflix, the most watched paid online video service.
Video content on Facebook was watched by 32.8% of Internet users at least once a month in the 14 countries tracked by Ampere's barometer. This was well behind the 68.7% who watched YouTube, but ahead of the 28.8% that watched Netflix.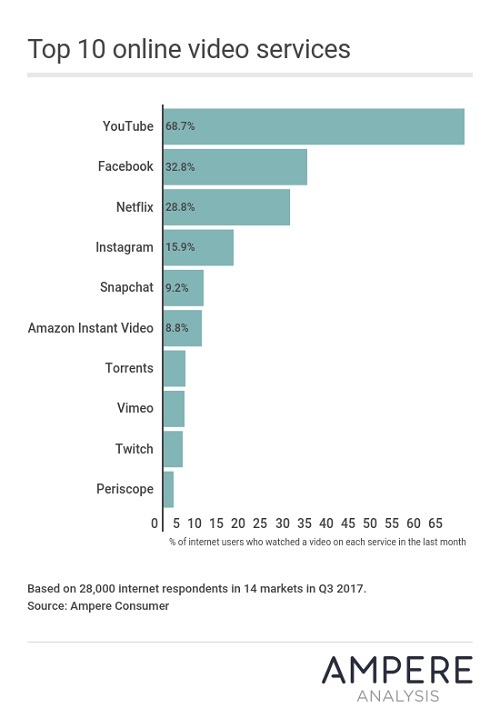 The study was conducted in the third quarter of 2017, and included responses from 28,000 Internet users in the US, UK, Denmark, Sweden, Saudi Arabia, Australia, Germany, Spain, the Netherlands, Italy, Poland, Turkey and France.
Interestingly, YouTube Inc. was the most watched service in every country other than the UK, where it was beaten out by the BBC iPlayer.
Facebook-owned Instagram also rated high, with 15.9% of Internet users watching video on it at least once a month. It was followed by rival Snapchat, with 9.2%; and Amazon Instant Video with 8.8%. Unsurprisingly, Snapchat and Instagram users were mostly under 35 years of age -- but so were Netflix users. But Snapchat was the youngest skewing of the three "young skewing" platforms, and Netflix was the oldest skewing.
Amazon and Netflix both did particularly well in the 25-34 age group, with Amazon actually outstripping Netflix within this age segment.
YouTube reached the largest proportion of 55-64 year olds, probably due to its easy sharing features across social media, websites and email.
It is interesting to see the impact of Facebook's commitment to video on actual viewing, but obviously the study has its limitations. Measuring the incidence of video viewing once a month doesn't really tell you very much about regular usage and intensity of engagement with any particular site. More people may watch a video once in a month on Facebook, but those that watch Netflix might value their service much more, use it for longer periods and far more frequently. I would say that relationship is probably worth more, both in terms of revenue and in terms of the user's lifetime value.
Still, it does suggest that Facebook is starting to become a leading video distribution platform, and potentially a real threat in the long term for both YouTube and Netflix. Snapchat's dominance among the very young should also not be discounted -- Facebook and Instagram have blown past it in terms of unique users, but by holding on to the youngest, most disruptive users, it could yet emerge as a threat in time.
— Aditya Kishore, Practice Leader, Video Transformation, Telco Transformation