Live sports draw many of the biggest audiences to live video streaming, and this month's UEFA European Championship soccer matches are no exception.
According to Akamai Technologies Inc. (Nasdaq: AKAM), the peak online audience size for a Euro 2016 match so far tops out at just under 2 million viewers (during the Italy/Sweden game), and that's before the knockout phase of the tournament even begins. During maximum peak traffic, Akamai recorded a throughput level of 4.28 terabits per second. However, the company expects that number to reach 10-13 Tbit/s before the tournament is over.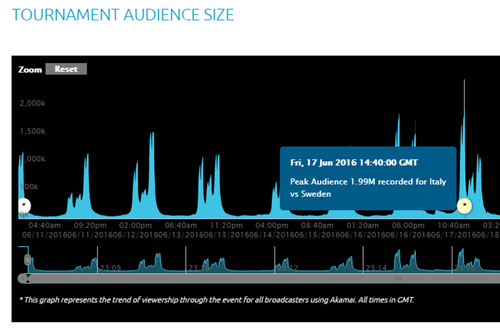 As streaming audiences grow, the big question is whether the existing network infrastructure can handle the load. So far, the answer seems to be yes. According to data from Cedexis , Akamai's average latency performance deviated a whopping 3 milliseconds from 74ms to 77ms during the roughly two-hour timeframe when the most recent games took place on Tuesday, June 21. Not only that, but Akamai's average response times have only ranged 11ms -- from 68ms to 79ms -- during the entire last 48 hours. Availability has ranged from 98.3% to 98.8%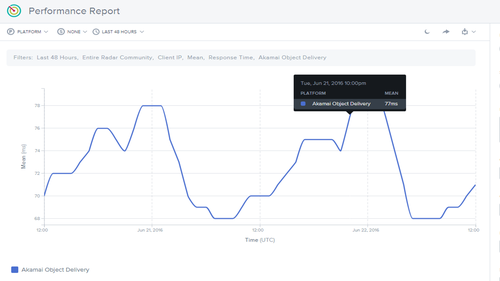 This detailed level of data available from Cedexis is still new. While the company has been sharing its real user measurement (RUM) information via online portals since last September, it only announced the ability to scan down to the minute yesterday. That level of detail is only available for the most recent 48-hour time period, but it's still incredibly valuable, particularly for measuring performance during the biggest moments of popular events. (See Cedexis X-Rays the Internet With Radar Live.)
Euro 2016 matches continue this evening, with the knockout phase starting on Saturday.
— Mari Silbey, Senior Editor, Cable/Video, Light Reading