Dish may not be holding a major media event at CES this year, but that doesn't mean the company is tamping down the press announcements. The highlight today is news that Dish subsidiary AirTV is launching its AirTV Player, a streaming media box designed to combine online video with over-the-air television in a single unified interface.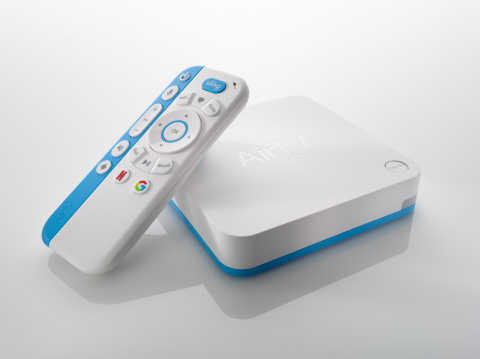 Hints of the existence of the AirTV Player started circulating last year, with a late-December report by blogger Dave Zatz accurately providing several detailed features of the product. (See AirTV Promises Best of OTA & OTT.)
In short, the media streamer is a 4K, WiFi-enabled Android box with a Bluetooth remote made by Universal Electronics Inc. that can be paired with an AirTV OTA Adapter and OTA antenna. On the streaming front, the AirTV Player comes pre-loaded with Netflix, Sling TV and YouTube. Dish Network LLC (Nasdaq: DISH) would undoubtedly like to steer customers toward its own Sling TV over-the-top service, but in reality, virtually any OTT video app is accessible on the box via access to the Google Play Store. From a streaming perspective, the AirTV Player is an open portal to the Android universe.
Where SlingTV becomes more valuable, however, is when users combine the AirTV Player with an OTA adapter and antenna. Viewers can then funnel local broadcast content directly into the Sling TV interface alongside online video channels. Why is this important? Because most OTT video services can't provide comprehensive access to local network affiliate stations. It's a licensing issue.
By tapping into traditional broadcast technology, Sling TV gets around that barrier and offers both local content and OTT video in one neat package.
As far as pricing and availability go, the AirTV Player, which is made by Technicolor (Euronext Paris: TCH; NYSE: TCH), is available on its own starting today for $100, or packaged with the OTA AirTV Adapter for $130. Any AirTV Player purchase comes with a $50 Sling TV credit. The OTA AirTV Adapter can also be purchased independently for $40.
Dish is simultaneously announcing AirTV Pro Install service. The service offers professional installation of the AirTV Player with a TV antenna for $100 to $150, depending on the type of antenna used.
---
Want to know more about video and TV market trends? Check out our dedicated video services content channel here on Light Reading.
---
The latest news out of Dish is a sign once again that the satellite TV company is innovating faster than almost any other major pay-TV provider. Unfortunately, that innovation may not be to Dish's benefit as the company continues to lose traditional satellite video subscribers that pay significantly more money for monthly television service. While Dish has attracted more than 600,000 estimated Sling TV customers, those subscribers can't make up for the money Dish is losing in its satellite TV business. In the most recent quarter, Dish reported a loss of 116,000 video subscribers overall, with an estimated drop of 320,000 legacy satellite TV customers. (See OTT Went Big in 2016, Aims Higher in 2017.)
Meanwhile, Dish is continuing to add features to its satellite TV service as well. Also at CES, the company is announcing new multi-room music networking support through its Hopper digital video recorders and Joey client set-tops, and compatibility for Hopper DVRs with Amazon.com Inc. (Nasdaq: AMZN)'s Echo and Echo Dot products.
— Mari Silbey, Senior Editor, Cable/Video, Light Reading