Continuing its curated embrace of OTT content at the set-top box level, Comcast said it has wrapped up an integration project that allows subs to stream content from ESPN3, ACC Network Extra and SEC Network+ directly to X1 devices.
Similar to other OTT set-top box integrations Comcast Corp. (Nasdaq: CMCSA, CMCSK) has completed with services such as Netflix Inc. (Nasdaq: NFLX) and YouTube Inc. , the tie-ins with this set of sports-focused streaming apps span the X1 guide, search platform and voice remote.
Combined, those streaming apps deliver more than 150 live games, and more than 5,000 live events each year spanning international soccer, Grand Slam tennis matches and several collegiate sports, including football, soccer, tennis, basketball, volleyball and field hockey.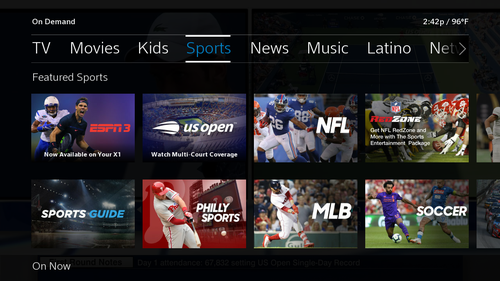 The integration enables X1 pay-TV subs with high-speed Internet service from Comcast to access ESPN3 and ACC Network Extra on the TV at home without requiring them go to through the extra step of authenticating themselves with a user name and password. Those customers can still use their Comcast credentials to access ESPN3 and ACC Network Extra via the ESPN app and the WatchESPN website. Comcast subs can do the same with SEC Network+ so long as the SEC Network is part of their pay-TV package.
Comcast has deployed X1 to more than 60% of its 21 million residential video subscribers.
While the app integration aims to simplify how X1 customers can access streaming services that are tied to pay-TV packages, the move comes as Comcast and other pay-TV providers look to head off the cord-cutting trend in part by complementing traditional TV with OTT-delivered fare.
That integration also enters play as programmers increasingly move ahead with their own direct-to-consumer products to help them get a grip on the ongoing fragmentation of the TV viewing audience. (See The New Video Playbook: Be Everywhere .)
For example, ESPN in April launched ESPN+, a standalone streaming service that runs $4.99 per month. It offers a range of live games from Major League Baseball, Major League Soccer and the National Hockey League, as well as boxing matches, select PGA Tour golf events and tennis matches from Grand Slam events such as Wimbledon, the US Open and Australian Open.
Walt Disney Co. (NYSE: DIS), which owns ESPN, is also preparing to launch a "suite" of direct-to-consumer products in 2019, with Disney Chairman and CEO Bob Iger calling it the "biggest priority of the company" in the coming calendar year, according to Variety.
— Jeff Baumgartner, Senior Editor, Light Reading