Despite Comcast's heavy investment in souped-up set-top boxes and even more powerful home media gateways, the cable giant is still seen as the most likely traditional US pay-TV provider to jump into the streaming media stick market first.
In the latest Light Reading community poll, Comcast Corp. (Nasdaq: CMCSA, CMCSK) drew the most votes from readers when asked which legacy pay-TV provider would be the pioneer in introducing an HDMI media streaming stick solution for subscribers, edging out Verizon Communications Inc. (NYSE: VZ) and other leading rivals. Comcast captured slightly over 20% of the votes cast by January 8, followed by Verizon with nearly 17%, Dish Network LLC (Nasdaq: DISH) and AT&T Inc. (NYSE: T) with more than 11% and DirecTV Group Inc. (NYSE: DTV) with almost 11%.
Time Warner Cable Inc. (NYSE: TWC) which is expected to be taken over by Comcast by the spring or summer, trailed badly behind the other major pay-TV providers. Notably, more than a quarter of survey respondents picked none of the above. The poll apparently struck a chord with readers, drawing more than 1,900 responses through January 7.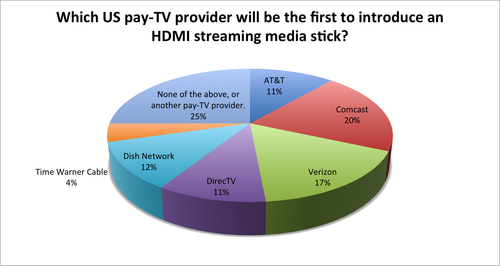 The HDMI streaming media market has taken off in the past year and a half, ever since Google (Nasdaq: GOOG) introduced the popular Chromecast streaming stick. Since then, other players have jumped into the market, including Amazon.com Inc. (Nasdaq: AMZN), Roku Inc. and Alticast Corp. . (See Amazon Gets on the Stick Too.)
As a result, industry observers have been speculating when pay-TV providers, particularly cable operators, would join the club. But none of the major providers has yet shown any inclination to do so, at least partly because of concerns that the sticks can't deliver the same video quality as standard set-top boxes. (See Can Amazon Light a Fire [Stick] Under Cable?)
The betting here at Light Reading is that Dish Network will trump its larger cable and satellite TV rivals by getting on the stick first. After all, Dish has already embraced the OTT delivery model with its pending launch of Sling TV later this month. Dish is also the first major US pay-TV provider to integrate Netflix into its conventional video offerings. Remember, you heard it here first. (See Dish Slings OTT Service – What It Means.)
— Alan Breznick, Cable/Video Practice Leader, Light Reading