Comcast Binges on Netflix in New Beta
Only two and a half months after confirming it would bring Netflix to the X1 platform, Comcast has delivered the goods.
Starting over the next few days, Comcast Corp. (Nasdaq: CMCSA, CMCSK) says it will begin rolling out Netflix as a beta service to select X1 subscribers before making it widely available later this year. Critically, Comcast is not only introducing a Netflix app on the X1 platform, but also integrating Netflix results in its search feature, and even in its grid guide within rows listing Featured TV and Featured Movies. Users can also use X1 voice commands to access Netflix Inc. (Nasdaq: NFLX) titles.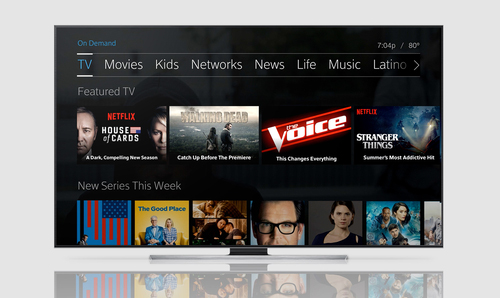 The integration of Comcast and Netflix service marks a major milestone in the pay-TV-versus-OTT television war. With a distribution footprint of more than 22 million subscribers, and the X1 platform covering roughly 40% of that territory, Comcast is opening the way for a competitive service provider to reach out to many of its customers directly. And Comcast isn't only providing access to Netflix as a standalone app, as many smaller US cable operators are doing, but also weaving Netflix-only content into the X1 experience. (See Comcast Confirms Netflix Coming to X1.)
For Comcast, the advantages to working with Netflix include both the ability to tout the additional service as a differentiator and to collect new data on customer viewing behaviors. Plus, now that 46 million consumers in the US already pay for a Netflix subscription (with or without cable TV), Comcast isn't giving too much away on the distribution front.
The Comcast/Netflix news also comes amid growing controversy over how pay-TV providers should be required to make their services available on third-party platforms. In today's case, Comcast is bringing Netflix into its environment. The question remains how others might be able to develop and deliver their own pay-TV-plus-OTT video experiences in the future. (See Roku Revamps: Why It Matters and FCC's New Pay-TV Plan: Shove It Up Your App.)
No financial terms for the deal between Comcast and Netflix have been disclosed. Recently, Liberty Global Inc. (Nasdaq: LBTY) also announced that it will make Netflix content available in more than 30 countries between now and the end of next year. (See Liberty Unlocks Netflix in 30+ Countries.)
— Mari Silbey, Senior Editor, Cable/Video, Light Reading
PARTNER PERSPECTIVES
- content from our sponsors