Comcast Adds Tubi to X1's OTT Video Blend
Adding another OTT option to its X1 set-top platform, Comcast has integrated Tubi, a free, ad-supported service that features a library of about 8,500 movies and TV shows.
The tie-in with Tubi follows similar app integrations that Comcast Corp. (Nasdaq: CMCSA, CMCSK) has completed with YouTube Inc. , Netflix Inc. (Nasdaq: NFLX), Sling TV (initially for its international subscription services), and (soon) Amazon Video. (See Amazon Prime Video to Stream to Comcast's X1 Boxes and ACA Calls for Comcast Antitrust Investigation & Trump Weighs In.)
Tubi, which launched in the US in 2014 and supports most major mobile and OTT streaming platforms, is getting rolled out to Comcast X1 boxes (about 60% of Comcast's residential video subscriber base is on X1) starting today.
"We want to make Tubi accessible to everyone; that's our mission," Tubi founder and CEO Farhad Massoudi, said in a recent interview. "Partnering with the largest cable company in the US is an incredible opportunity for us."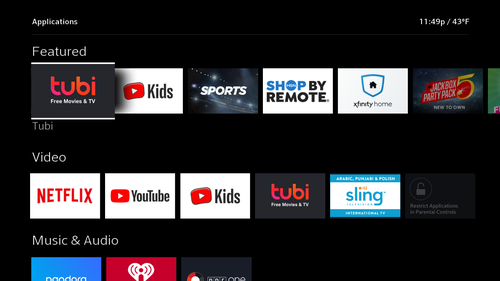 Tubi's business model is based on advertising, putting it in competition with streaming services such as Sony Corp. (NYSE: SNE)'s Crackle, Pluto TV and Vudu, which offers a mix of free titles alongside movies and TV shows that can be bought or rented. Tubi's average hourly ad load is about four to five minutes, compared to the 16 to 20 minutes of ads per hour that's common among traditional TV programmers.
Tubi and Comcast aren't talking about the financial terms of the agreement, but it's likely that Comcast is getting a piece of the advertising action for Tubi viewing on X1. Of note, Tubi is already connected to many of the major online advertising video mediation systems, including Comcast-owned Freewheel.
Tubi has been integrated with X1's baseline search platform and will also soon support X1's voice search and navigation platform, Massoudi said. Tubi's content will also be browsable in various genres, including anime, drama, family, horror, classics and comedy, within Comcast's own VoD platform.
The integration will also support Tubi's internally developed machine learning-powered recommendation engine that surfaces titles based on viewing habits.
Massoudi said that the ML system has played a critical role in a 20x growth in viewership since 2016.
Tubi, a service available today in Canada and the US, has not announced when it might support similar integrations with cable operators with X1 syndication deals with Comcast, a group that includes Cox Communications Inc. and three Canadian operators -- Shaw Communications Inc. , Videotron Ltd. and Rogers Communications Inc. (Toronto: RCI). "Comcast is a big step in that direction," Massoudi said.
Tubi streams in HD today but has yet to introduce a 4K library. "It will come... it's a matter of time," Massoudi explained.
San Francisco-based Tubi has raised about $35 million, with financial backers that include Lionsgate, MGM, Paramount and Tegna, the Virginia-based broadcast television and digital media company.
Tubi has also developed apps for several retail platforms, including iOS and Android mobile devices, Roku Inc. players and TVs, Apple TV, Chromecast adapters, Xbox One and Xbox 360 consoles, PlayStation 4 consoles, Amazon Fire TV devices, Samsung smart TVs (Tizen), and web browsers.
— Jeff Baumgartner, Senior Editor, Light Reading
PARTNER PERSPECTIVES
- content from our sponsors