There are very few DVR solutions available at retail, but long-time technology provider Channel Master added to the selection in late 2013 when it introduced the DVR+ manufactured by Echostar. Now, at CES 2015, Channel Master is going a step further and extending the feature set of its retail box to include not only broadcast linear TV, but also online linear video.
With a software update planned for early this year, the Channel Master DVR+ will offer an integrated program guide providing access to: over-the-air (OTA) broadcast stations, select online video applications like Vudu and YouTube, and live and linear online TV channels.
Channel Master may be best known for its OTA antennas, but the company took an unexpected turn when it launched the DVR+. The subscription-free DVR+ is marketed as "the ultimate cord-cutting alternative to traditional pay-TV services," and it comes in two versions -- one with an internal hard drive and one without. The two models retail for $399 and $249 respectively.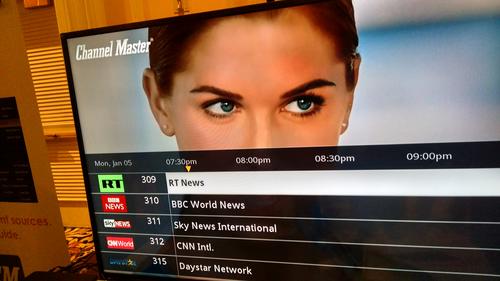 The addition of online linear video marks another interesting pivot by Channel Master. While the DVR+ added to its consumer arsenal, the new linear feature -- branded as LinearTV technology -- also targets TV programmers. Channel Master says it can deliver online broadcast video directly to consumer TVs without the need for apps. According to Channel Master, this should reduce production costs and time to market for online broadcast content.
On the other hand, from a consumer perspective, the new online linear TV feature may confuse Channel Master's cord-cutting message. If the broadcast networks wanted to deliver TV online for free, the DVR+ with LinearTV could be an effective alternative to cable service. However, broadcasters are trending in the opposite direction, with ABC requiring viewers to sign in with pay-TV credentials for online viewing and CBS introducing its own paid service for accessing live content on the web. (See CBS Takes OTT Plunge.)
---
Want to know more about OTT video? Check out our dedicated OTT content channel here on Light Reading.
---
In other words, the new linear TV feature might be good for users with a pay-TV subscription, but it's unclear how much value it will provide to a true cord-cutter.
If the DVR+ gained massive popularity, it could theoretically become a vehicle for à la carte broadcast services like the new CBS All Access. But the success of the à la carte model is far from assured, and the high price of CBS's new offering doesn't promote confidence.
Bottom line: Broadcasters don't want to give away their channels for free on the Internet. And there's nothing Channel Master can do to change that.
— Mari Silbey, special to Light Reading