Analyst: AT&T Made 'Major Strategic Error' on SVoD Plan

Comment (3)
The launch of AT&T's set of subscription VoD services is about a year away, yet the company has already stumbled badly, according to one top industry analyst.
AT&T Inc. (NYSE: T)'s "decision to create three new alternative DTC [direct-to-consumer] products while continuing to license content to third parties is a major strategic error," Michael Nathanson, analyst with MoffettNathanson LLC , argued in a recent report that sizes up the SVoD sector heading into 2019 amid the relatively recent flurry of massive M&A moves.
As a brief reminder, AT&T's WarnerMedia unit (created from the acquisition of Time Warner Inc.) initially plans to launch three SVoD service tiers -- an entry-level offering focused on movies, a premium tier with unique programming and more theatricals, and a third offering that bundles those first two alongside a deeper content library. Pricing hasn't been announced, but AT&T CEO Randall Stephenson has already promised that it won't be a Netflix Inc. (Nasdaq: NFLX) clone. (See AT&T CEO: Our SVoD Service Won't Be 'Another Netflix' and AT&T Bets Big on OTT to 'Bend the Cost Curve' of TV & Video.)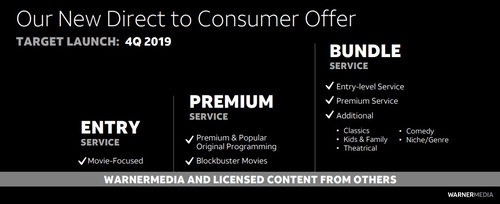 There's no brand name for those services, though AT&T has already indicated that the new offerings will center on HBO's content and platform.
Nathanson believes that AT&T needs to go a few steps further. "For the life of use, we can't figure out why the company wouldn't use the HBO brand and app as their single global platform and populate their HBO Now and HBO GO apps with content like Friends, The West Wing or more Warner Bros. TV library content," he wrote.
He reasons that consumers are likely to take only three to four SVoD services, and HBO is already one of them for many. And even if AT&T is raking in about $100 million a year from licensing a popular older series such as Friends to Netflix, HBO would have needed just 833,000 incremental subs to generate that sum if the series was retained exclusively.
The direct-to-consumer angles being taken by AT&T/WarnerMedia and Walt Disney Co. (NYSE: DIS) are emerging as a study of contrasts. While AT&T will continue to license content to others, like Netflix, Disney is going with a more closed/exclusive model with Hulu and the coming Disney+ service, which will feature content from properties such as Marvel, Lucasfilm, Pixar and whatever comes from Disney's acquisition of Fox. (See Disney Dispenses Details About Its New Streaming Service.)
AT&T, Nathanson explained, is establishing a different have-your-cake-and-eat-it-too structure that, for now, appears to be "unwilling to trade off the long-term value of building a globally scaled DTC platform for the continuation of short-term licensing fees from traditional and SVoD partners."
Despite providing access to top-tier content, Disney's approach is not risk free either. The decision to willingly sacrifice licensee fee revenue in favor of developing a subscription business will only pay off if it's fully scaled, Nathanson said.
"2018 will go down as the year in which some of the largest traditional media companies started to show their cards vis-a-vis their over-the-top distribution strategies," Nathanson wrote, though he said it's still not clear what approach Comcast Corp. (Nasdaq: CMCSA, CMCSK) and NBCUniversal LLC will take following the acquisition of Sky .
How long WarnerMedia maintains its 'frenemy' strategy with Netflix and others is difficult to gauge. However, the approach of holding back older, back catalog content is expected to be the "next shoe to drop," Nathanson predicted.
The warning signs are clearly there. Last month at AT&T's analyst day, WarnerMedia CEO John Stankey seemingly put Netflix on notice when he said "incumbents" in the SVoD sector "should expect that their libraries are going to get a lot thinner as we get out 18 to 24 months in the number of hours that they have available for their consumers." (See AT&T Bets Big on OTT to 'Bend the Cost Curve' of TV & Video.)
Still bullish on Netflix
Netflix, of course, is preparing for that as it continues to spend heavily on original content that it can offer exclusively in the US and abroad, and to lean less on licensed content.
"Netflix has fully evolved from 'TBS' to 'HBO' as they've gone from renters to buyers," Nathanson explained. Netflix also pays handsomely to license exclusive content from other studios, such as The Crown (Sony) and Orange is the New Black (Lionsgate).
Though Netflix is absorbing more debt and ratcheting up spending to position itself for this next chapter in the story of direct-to-consumer SVoD services, Nathanson is still somewhat bullish that Netflix, and its global approach, will be able to hold its own.
In addition to reiterating a "Neutral" rating on Netflix, MoffettNathanson also raised its target price on the company to $230 per share, from $210. Nathanson currently calculates Netflix's enterprise value at $134 billion -- $48 billion for domestic, and $86.2 billion for its international segment.
But he doesn't give Netflix quite as much credit for its international business as other analysts have given it, due to the ongoing gap in revenues per unit between the two sides of Netflix's business -- monthly ARPU for US Netflix subs was $11.44, compared to $9.70 for international subs in Q3 2018. Nathanson is forecasting that, in 2025, Netflix will have 88.5 million US paid subs (it had 58.46 million at the end of Q3 2018) paying an average of $17.03 per month.
— Jeff Baumgartner, Senior Editor, Light Reading
PARTNER PERSPECTIVES
- content from our sponsors
GUEST PERSPECTIVES
- curated contributions