Altitude TV says OTT doesn't make enough dollars or sense

Comment (3)
Altitude TV, the regional sports network that provides live coverage of the Denver Nuggets and the Colorado Avalanche, is in a tough spot.
As NBA and NHL seasons draw closer, Altitude TV is without a new deal with the region's three major pay-TV distributors: Comcast, AT&T/DirecTV and Dish Network. With all sides failing to lock in a new agreement before the previous contract expired, Altitude TV went dark on Dish on August 29 and was pulled from Comcast and AT&T/DirecTV just days later. Meanwhile, virtual MVPDs such as YouTube TV, Hulu, fuboTV and PlayStation Vue do not offer Altitude TV.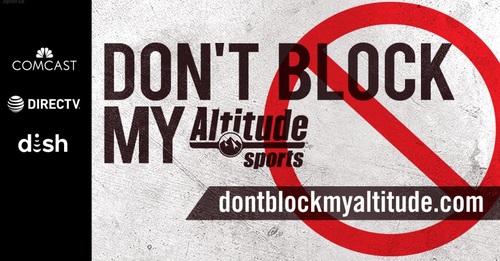 With access to Altitude TV getting snipped by three major pay-TV providers almost at exactly the same time, it's causing some consumers in Altitude TV's ten-state region to wonder about what alternatives they might have. Some viewers have pressed Altitude TV about why it doesn't simply go over-the-top and launch a direct-to-consumer subscription streaming service and sidestep the pay-TV providers.
While OTT would give Altitude TV a way to connect to its audience without that middle layer, Altitude TV stressed that the economics won't work for the Stanley Kroenke-owned regional sports network.
"Unfortunately, today a model does not exist that can support a streaming/direct to consumer option," Matt Hutchings, president of Altitude Sports, said in a statement.
Altitude TV does have some streaming capabilities in place with AltitudeNOW. However, that service, delivered as an app on iOS and Android mobile devices, is not a standalone OTT offering but rather an authenticated TV Everywhere service that is made available through Altitude's participating pay-TV partners.
Hutchings also argues that Altitude TV (as well as other regional sports networks, including those owned by Comcast and AT&T) would be unable to achieve the necessary subscriber scale for a direct-to-consumer version of the service to pay off. Or the price on a standalone OTT version of Altitude TV would be too high for most consumers to stomach.
"A direct to consumer offering would be very expensive to the consumer and likely would not raise sufficient revenue for Altitude and the other Regional Sports Networks to remain in business," Hutchings added. "If this model did not exist, the Regional Sports Networks, including Altitude, would disappear as they would not have sufficient revenue to pay for the rights fees for the wide array of sports programming they provide to their subscribers. As a result, sports fans would not be able to watch their favorite local teams."
The dispute, which of course centers on pricing as well as which tier the channel is offered on, illuminates the value of regional sports networks but also shines the light on their substantial and critical reliance on pay-TV distribution dollars.
Premium channels like HBO, Showtime and Starz have successful direct-to-consumer, standalone subscription options, but those services are also heavily underpinned by the distribution pacts they have with various pay-TV partners.
This is also why new direct-to-consumer subscription services like Disney+, HBO Max and Apple TV+ will need massive scale right out of the chute (for its part, Disney expects to have between 60 million to 90 million Disney+ subs by the end of fiscal 2024). They'll need to rake in tens of millions of subscribers rapidly if they are to stand half a chance at making the direct-to-consumer economic model work without the benefit of a bunch of financial aid coming from pay-TV partners and by forgoing some of the easy money they would get by licencing their content to others.
The economic challenges of the DTC model is also evident in NBCUniversal's plan to make its new OTT service available to millions of pay-TV subs at corporate cousins Comcast and Sky alongside an option for consumers to buy it on a standalone basis.
The new Charter-Disney deal does consider the possibility of the cable operator distributing Disney+. And AT&T has vowed that its new HBO Max SVoD service will be pay-TV friendly. However, despite some potential partnerships involving pay-TV providers, those new services are clearly pinning their hopes on the more financially challenging DTC model.
Related posts:

— Jeff Baumgartner, Senior Editor, Light Reading