82% of TV Consumption Is Still Live TV, Says ITV's Online Head

Comment (1)
AMSTERDAM -- IBC 2017 -- Online viewing is growing in leaps and bounds for UK's largest commercial broadcaster, according to Faz Aftab, director, commercial, technology and operations online for ITV. But on most days, for most shows, viewership is still via live TV.
Speaking at the IBC event in Amsterdam last week, Aftab said that ITV's online destination, ITV Hub, had grown rapidly to 20 million regular users, and for certain shows and events, viewership on the site could spike dramatically. But more traditional TV distribution outlets continue to dominate viewership, and the web is still unable to support the huge volumes of video that would be required should that behavior change suddenly.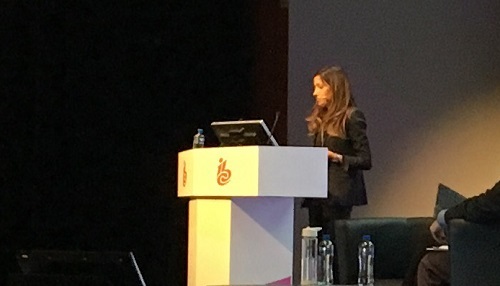 ITV plc (London: ITV) is the largest commercial broadcaster in the UK; the UK equivalent of an NBC or CBS. Aftab also emphasized that ITV is an integrated producer and broadcaster, so it produces a lot of TV content itself, both for distribution on its own channels as well as for selling on to others. She said the broadcaster spends about £1 billion ($1.35 billion) every year in content development.
The goal for her team is to grow the audience for ITV Hub. She wants to "make ITV bigger" on the site, and build a direct relationship with viewers.
"We want to drive more viewers to watch more," she said, "but also to build and evolve the technology and test new advertising models."
ITV's runaway hit show this summer, Love Island, has been particularly successful in driving viewership on ITV Hub. Aftab said that 40% of the show's viewership was via the Hub, and that on average 500,000 simulcast streams were viewed live per episode, which doubled to 1 million for the show's finale.
It's not surprising that the show did well online. Love Island was a reality show about a group of attractive young people who date each other while living together in a luxurious villa and lounging around poolside in bathing suits. The appeal obviously skews towards a younger, Instagram-focused audience -- although it should be said this particular show just took off, and became a massive hit even across broader demographics.
Much like NBC's Hayu, ITV has also looked to use short clips and social media to promote the show, with considerable success. Given that the show's participants were selected at least in part based on their Instagram profiles, this would seem logical. Aftab said that 150 million short videos were seen across the ITV Hub itself and various social media outlets. (See 'Maximize, Optimize, Kill' – NBCU's McDermott.)
For her, the priority now is personalization. ITV produces a huge amount of content, but it needs to better personalize and recommend options to viewers.
"We need to remove the friction and frustration in the content selection process,' she said.
This intent led to a focus on innovative means to show and organize content, but Aftab is also interested in developing new ways to deliver targeted advertising, which is sort of the other side of the personalization coin. To make effective recommendations and personalize the viewing experience, you need to know who your customer is. Once you know this, you can also deliver more relevant advertising and potentially generate higher CPMs and ad revenue as well.
The key to this kind of personalization is to marry new means of data collection through digital platforms to traditional programming strategies from the linear world.
"We have to change our perspective," she said. "Traditional programming was based on scheduling. You picked the time and matched audience to content and other factors. Now we need to use data [gained from digital platforms] to overlay some of these basic principles to create more personalized experiences."
But traditional is still king, she admitted. She said 82% of TV consumption was still via live TV. ITV Hub sees more live streaming than other outlets; about 18% of the BBC's iPlayer's streaming is done live, while the corresponding number for ITV Hub is 30% -- and that can go up to 50% for major sporting events or shows like the Love Island finale. But there is a hard stop -- even if live online audiences grow higher, she questioned whether the Internet could support it.
"If we try and deliver live football to 7 million people, the web will start creaking," she said.
— Aditya Kishore, Practice Leader, Video Transformation, Telco Transformation
PARTNER PERSPECTIVES
- content from our sponsors
GUEST PERSPECTIVES
- curated contributions