LAS VEGAS -- CES 2016 -- Dish and its subsidiary Sling TV have released a slew of announcements at CES, many of which deserve closer examination. But for my money, the most interesting story is the introduction of HopperGO, a USB flash drive solution for Dish subscribers making DVR content portable and sharable.
Dish Network LLC (Nasdaq: DISH) isn't the only service provider offering a cache-and-carry solution for content. Comcast Corp. (Nasdaq: CMCSA, CMCSK)'s cloud DVR service also lets customers watch recorded content on the go, and Verizon Communications Inc. (NYSE: VZ)'s new FiOS TV app let users stream content already recorded on their DVRs. (See Comcast Cloud DVR Storms Down East Coast.)
The satellite TV operator, however, takes that model a step further. In addition to making recorded shows available on mobile devices, Dish uses HopperGO to create a secure, private cloud for WiFi playback, allowing up to five devices access to recorded video from a single USB drive. Access isn't limited to one stream at a time either. Multiple people can watch different shows from a household's content library concurrently. This might apply to a family on vacation where the parents want to watch one show in their down time, and the kids another. The model could also work in a house full of roommates where different people want to watch different shows on their own devices.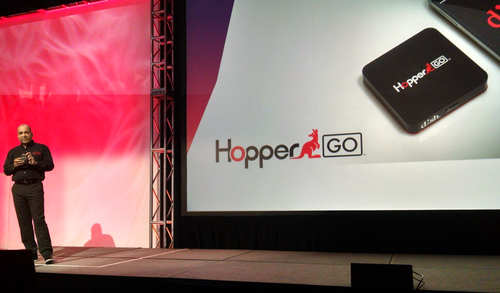 While the applications for HopperGO are interesting, there's also a broader trend that the new device appears to herald. If content owners are sanguine about the security of their TV shows in a controlled yet shared wireless environment, then that means that more premium video service providers are likely to experiment with the private cloud idea for localized content distribution.
In other words, if the security problem is solved, then sharing content could become as easy as it once was when everyone relied primarily on physical media. Now instead of taking a VHS tape of old or a DVD over to a friend's house, it becomes possible to carry a private cloud with an entire library of recorded content anywhere a user wants to go.
Specific to Dish, the HopperGO:
Connects to a subscriber's Hopper 2 or Hopper 3 DVR for content transfer and battery charging
Stores "up to 100 hours of recorded content" on a 64GB flash drive
Will be available at the end of the first quarter
Will cost $99 with no monthly fee
---
Want to know more about the impact of web services on the pay-TV sector? Check out our dedicated OTT services content channel here on Light Reading.
---
In other Dish news, the pay-TV provider also announced its new Hopper 3 DVR with 4K support, 16 tuners and a Sports Bar mode for viewing of four different channels at once. Dish has also integrated Netflix into its universal search function and added YouTube alongside Netflix, Pandora and other OTT services available on its set-top. New content partnerships with companies including Sony promise to bring more 4K video to Hopper-connected screens.
Sling TV, meanwhile, unveiled a new, more personalized user interface that is expected to be rolled out in phases starting this quarter. The company also announced the addition of ESPN3 to its channel guide.
— Mari Silbey, Senior Editor, Cable/Video, Light Reading