Comcast's Watchable: Like YouTube… Sorta

Comment (1)
Good old-fashioned cable TV? Check. Skinny bundle? On its way. Free ad-supported video service? Live today.
After teasing its new Watchable online video service in August, Comcast Corp. (Nasdaq: CMCSA, CMCSK) officially launched the ad-supported platform in beta Tuesday morning. Content includes 29 online video networks (full list here), all of which can be browsed by genre or by scanning through lists of trending videos and curated favorites. Watchable is available not only on the web and mobile devices (iOS only for now), but also on the TV for X1 users.
Ironically, Comcast is debuting its ad-supported video offering at the same time that YouTube Inc. is getting ready to launch an ad-free subscription service. Two approaches to video distribution are converging in the middle. (See YouTube Advertises Ad-Free Service – Report.)
Where YouTube still has a heavy dose of user-generated content, however, Comcast's Watchable is all about online video hits, from clips of The Tonight Show to web-born content like videos from Mashable and The Onion. Some of the content is owned by Comcast, including media tapped from corporate cousins NBCUniversal LLC , Buzzfeed and Vox Media. Other content, like AwesomenessTV, is sourced externally and can be accessed through a range of distribution outlets, including Verizon's new Go90 mobile service. (See Verizon Kicks Off Go90 Private Beta .)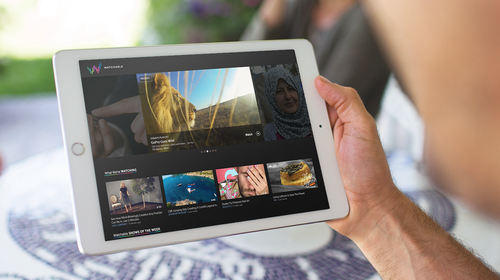 Like its rival Verizon Communications Inc. (NYSE: VZ), Comcast has been stocking up on media assets, while also building up a robust media delivery system. This strategy means that the two companies can hedge their bets between programming and distribution, while also giving themselves the flexibility to experiment with new ways of packaging content services.
Monetization is another key piece of the puzzle. In Comcast's case, the company is looking to make good on ad-tech acquisitions, including its buyout of FreeWheel in 2014 and Visible World earlier this year. (See Comcast Readies 'Watchable' Online Service.)
---
Want to know more about the impact of web services on the pay-TV sector? Check out our dedicated OTT services content channel here on Light Reading.
---
While the first version of Watchable is available today, Comcast is leaving the door open to updating the service in the future. In a blog post, Chief Business Development Officer Sam Schwartz says, "We want people to try Watchable and tell us what they think. Over time, we'll add additional network partners, make the experience more personalized, and include new options to share content with friends."
— Mari Silbey, Senior Editor, Cable/Video, Light Reading