Claire McHugh, CEO and co-founder of Axonista, attributes a lifelong love affair with television for kickstarting her career, and she believes TV hasn't died; it's morphing into something incredible.
This passion for TV and recognition of how it's changing led her to co-found Axonista in 2010 on the premise that while TV may be incredible, watching it isn't actually happening in the living room anymore.
Axonista builds interactive video applications that are tappable, interactive and tailored to the smart devices where it is happening, whether they be smartphones, tablets or something else. Its innovations for clients like QVC, Viacom and AOL won it a spot in the finalist list for Women in Comm's Leading Lights award for Female-Led Startup of the Year. (See WiC Leading Lights Finalists: Female-Led Startup to Watch .)
McHugh has learned a lot as a startup founder in terms of how to execute on an idea, raise funding, manage a team and more. She's also met some unique challenges and opportunities as a female in a startup world that tends to be male dominated. Here, she shares some of her insights, advice and lessons learned with WiC.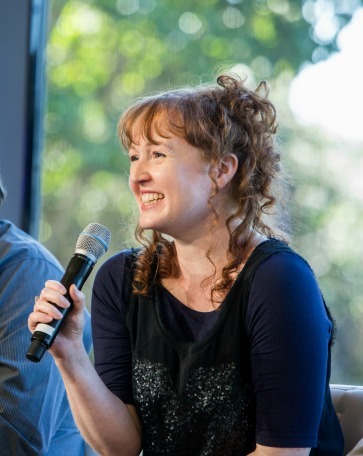 ---
Interested in joining Women in Comms on our mission to champion change, empower women and redress the gender imbalance in the comms industry? Visit WiC online and get in touch to learn more about how you can become a member!
---
Women in Comms: Tell us a bit about your background and how you got interested in technology.
Claire McHugh: I come from a very creative and entrepreneurial family. My mother is an artist; my dad is involved in theater; my brother is an aspiring author; and I studied music performance and production. I've also had a lifelong love affair with television.
I developed an interest in technology as a teenager, helping out at my father's theater group with lighting and watching my mother bring photos to life in her darkroom. Through having to make my own music demo tapes, I realized that technology offered just as many opportunities for creativity as painting or writing music. During my early career, I worked in several digital agencies, and later in television where I learned how to curate a schedule of programming tailored to viewers' preferences. This gave me a unique perspective and a user-centric focus that I brought with me as I founded Axonista.
Launching a video-focused startup has been a natural progression for me. I get a lot of enjoyment from seeing something form as an idea and become a product with paying customers.
WiC: Have you had any unique challenges or opportunities as a female startup founder?
CM: I enjoy being in an environment where there is a diverse group of people. I think that having a multi-disciplined team from different backgrounds makes for well-rounded decision making. I participate in the international startup community, and I'm really heartened to see a lot of young female founders of tech startups in recent years. I try to be a very visible and approachable CEO, so that young women who might be interested in choosing this career path for themselves can see that it's definitely an option to consider. That's a wonderful opportunity -- to be able to inspire and help young women in their careers.
WiC: What's the biggest lesson you've learned in the process of innovating, finding funding for Axonista and leading a team of 15?
CM: There are so many lessons learned along the way, by making tons of mistakes and trying not to repeat the same mistake twice! Scaling a business can be really hard, especially when things aren't going so well. The biggest lesson I've learned is not to keep it all to myself. You think, "I can't share this with anyone," but, talking to someone, whether that's an advisor, mentor or a fellow founder is the very best thing you can do and often will reveal a resolution to your issue that you may not have thought about otherwise. The most important thing to do is to stay connected to people and ask for help when you need it.
WiC: What is the most exciting part of your job right now?
CM: I'm massively excited about the future of TV and what's happening in the industry right now. TV hasn't died; it's morphed into something incredible and is full of opportunity for innovation. The infrastructure and technology is finally in place to deliver highly interactive, personalized video experiences to all sorts of platforms, be it physical or virtual. The next five years are going to be amazing.
WiC: What is your biggest piece of personal advice for other female entrepreneurs?
CM: Think big. Be prepared. Find customers. Always trust your gut and listen, listen, listen.
ó Sarah Thomas,

, Director, Women in Comms