LAS VEGAS -- CES 2016 -- There are big stories that come out of CES, and then there are many, many little observations and insights that too often get lost in the shuffle. In an attempt to preserve some of them, here is a chronicle of relevant tweets, notes and photos taken and posted during the 2016 Las Vegas event.
***
I knew there would be no shortage of ridiculous photos of people in VR goggles. And here I contribute my own.
Best new dorky photo of yours truly. Product is 3DRudder - controlling virtual reality with your feet. Awesome. pic.twitter.com/qP2VgebtGT

— Mari Silbey (@msilbey) January 5, 2016
***
Android Pay? Apparently so in Las Vegas cabs.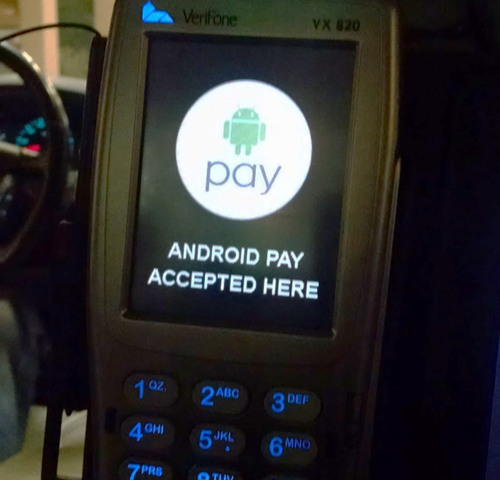 ***
I tweeted this at a Digital Hollywood session referring to Mobilactive Media CEO Terry S. Beinstock. He's very right. Cable and telecom operators wouldn't dare miss this show today.
Bienstock at Digital Hollywood panel: 15 years ago Comcast saw no reason for cable execs to speak at CES. Boy have things changed

— Mari Silbey (@msilbey) January 5, 2016
***
At the same Digital Hollywood panel, Cameron Friedlander of Kimberly-Clark made a point about the flip side of virtual reality. In his opinion, a lot of millennials would rather live in the real world and just use augmented reality tools to navigate that world -- tools like Tinder, for instance.
***
This makes me wonder about the future of Google Fiber Inc. TV.
Google video exec mentions YouTube, Chromecast and Android TV. No mention of Google Fiber TV.

— Mari Silbey (@msilbey) January 5, 2016
***
Favorite quote so far, if something goes wrong with the app streaming video to your TV, who do you call? "Might as well call Ghostbusters!"

— Mari Silbey (@msilbey) January 6, 2016
***
Canadian chip company ViXS Systems Inc. is betting a lot on its new CordCutter TV stick believing there's still a market for an Aereo-like product that streams OTA content to Internet-connected devices. In a conversation, ViXS VP John Pomeroy called the new product "almost a loss leader, a springboard" for future, more sophisticated products centered on OTA TV.
***
Ouch. (See below, and also Dish Ups the Ante in Vegas With HopperGO.)
Sling TV CEO Roger Lynch says mobile video needs to be more like Spotify, less like Comcast pic.twitter.com/GH1luil2SV

— Mari Silbey (@msilbey) January 5, 2016
***
Cisco Systems Inc. (Nasdaq: CSCO)'s annual CES press reception was lower key this year (no John Chambers), but still an occasion for multiple news announcements including the launch of Infinite Broadcast, the latest multiscreen video solution in Cisco's portfolio of "Infinite" cloud products.
***
---
Want to know more about the impact of web services on the pay-TV sector? Check out our dedicated OTT services content channel here on Light Reading.
---
***
D-Link Systems Inc. is integrating its smart home products with the Amazon Echo and Apple TV, which is why I got this meta photo of me recording myself being recorded by a D-Link camera and projected on a flat screen display.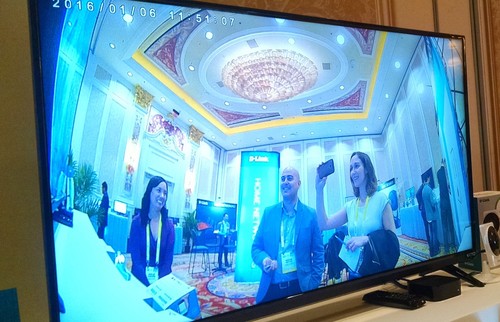 ***
I overheard someone say that Comcast Corp. (Nasdaq: CMCSA, CMCSK) has embedded a "Made with love in Philly" stamp in its licensed X1 apps... and then confirmed it.
It's true. Take a look in the Shaw X1 app. Made with love in Philly. pic.twitter.com/dNn5xkpblF

— Mari Silbey (@msilbey) January 7, 2016
***
I had no idea Ericsson AB (Nasdaq: ERIC) was "leading the way on cloud-based DVRs." Of course that may be because, according to Giles Wilson, CTO of video products, the company hasn't been able to announce several major operator customers in North America and Europe. I look forward to those press releases.
***
CableLabs CEO Phil McKinney is always entertaining, and good for some industry analysis too. For example, he said in an interview that he's not worried about competition from low-power wide area networks in smart city deployments. Cable will have a big role to play in backhauling those networks. Also, McKinney's betting the Altice acquisition of Cablevision Systems Corp. (NYSE: CVC) will get approved. No guarantees, but that's where he's putting his money (figuratively, of course).
— Mari Silbey, Senior Editor, Cable/Video, Light Reading