Sixteen operators spanning 13 countries are currently trialing LTE Multicast, according to a new report from the Global Mobile Suppliers Association.
Part of the 3rd Generation Partnership Project (3GPP) 's LTE Release 9 specs for eMBMS (evolved Multimedia Broadcast Multicast Services), LTE Multicast allows wireless operators to broadcast live video over their LTE networks to multiple users simultaneously. The alternative -- using unicast streams -- takes up significantly more capacity and can easily overload the network when multiple users are watching on the same cell site. Sporting events such as the Super Bowl are a prime example of when LTE Multicast could become essential. (See eMBMS: Revolutionary Technology or Alphabet Soup?)
This is the first time the Global Mobile Suppliers Association (GSA) has looked at the market for LTE Multicast, or LTE Broadcast, as it is still a relatively new technology -- albeit one that's been talked about for a long time. South Korea's KT Corp. launched the first commercial service in January of this year and remains the only operator with an actual commercial service. (See Nearly 500 Operators Make the 4G Pledge.)
Now, however, it's joined by operators in Australia, China, France, Germany, India, the Netherlands, the Philippines, Portugal, Singapore, South Korea, UAE, UK and the US, all of which are at least trialing the technology currently.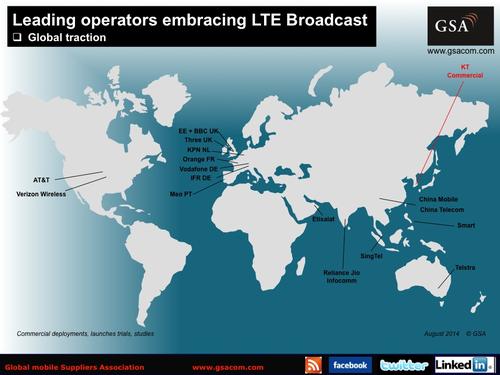 ---
Read up on advanced LTE technologies on our dedicated mobile content channel here on Light Reading.
---
In the US, both Verizon Wireless and AT&T Inc. (NYSE: T) have said they will deploy LTE Multicast next year. EE in the UK has been testing the technology with partners, but Vodafone Germany claims to be the first European operator to have trialed it. (See Verizon's Multicast LTE Video to Arrive in 2015, AT&T's Strategy Boss Puts Content First, EE to Trial 4G Broadcast in Scotland and Euronews: Vodafone Tests LTE Broadcast.)
More widespread support for the standard will be crucial for it to take off, but don't expect trials to move to deployments at a rapid clip. Despite the many benefits, some operators feel that use cases are limited -- primarily in-stadium broadcasts of supplementary content -- and a business case still needs to be worked out amongst the many participants in the value chain, including operators, broadcasters, venue owners and vendors.
— Sarah Reedy, Senior Editor, Light Reading