Disney's Ben Havey: Collaboration & Content in a 5G World

8/29/2018

Comment (0)

PH: Where do you see this going in terms of movie making and maybe the consumer experience in general, say in the next two to three years?
BH: I think that's another really important role for the lab is it's not just about technology, it's also about using that technology to create content, because in order for our studio leadership and creatives to absorb this, it's not just about [technical] capability. They want to see the experience, so we have a small experimental content program here where we're working with our best and brightest creatives, and new technology, to produce short experiences that either solve specific technical problems, or articulate new ways of storytelling, and this is a way to eliminate the risk.
If we can use [new technology] in a small way to tell a story, or to create or convey some sort of new experience, then it can find it's way into production. The good news is there's so many different types of content creation that happens here. In some cases we'll start with marketing content and then as the fidelity gets better and we work out the workflow it finds its way into the hands of film makers.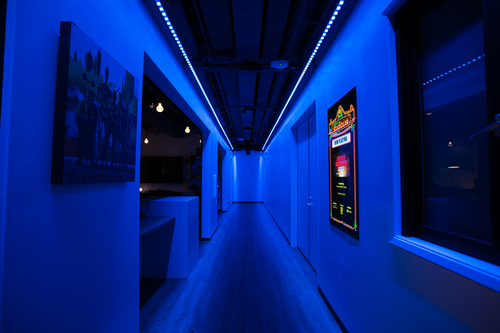 That is the ultimate goal, to get tools into the hands of film makers and I, for one, am so overjoyed with the reaction that we've had. We've had so many folks come through and there's just such an appetite for new ways of doing things, for new approaches, and every single creative or executive leader that's come through here has just been, 'Yeah, this is such a great time to be in the business that we're in.'
PH: What's your favorite thing about how the creative workflow is changing -- either with collaborative tools, networks or just new technology in general?
BH: I think what is so exciting is... offering our creatives more iteration -- and more opportunity to refine. The more that we can do that, and the more we can drive iteration earlier in the process, the better the final result is, so that's been really great. I think that production is this really complex process that involves lots of moving pieces and -- to whatever degree -- if we can provide technology that allows groups to work together in a more harmonious way, in a more collaborative way, we're creating value for the company.
— Phil Harvey, US News Editor, Light Reading

(0) |