AT&T Lab Tests DirecTV Now Over 5G
AT&T is streaming its DirecTV Now mobile video service over 5G... at least in a series of early lab tests.
The telco announced the early 5G fixed wireless trials with Nokia Corp. (NYSE: NOK) today, noting that it was able to stream DirecTV Now over the Internet using spectrum in the 39 GHz frequency band with Nokia's AirScale radio access platform. The news follows earlier announcements by AT&T Inc. (NYSE: T) of both 5G lab tests and one 5G field trial in Austin, Texas. The company has also said it will conduct a residential 5G field trial with the DirecTV Now video service in the first half of this year, followed by further mobile and fixed wireless 5G trials later in 2017. In addition to Nokia, AT&T has also partnered with Ericsson AB (Nasdaq: ERIC) and Intel Corp. (Nasdaq: INTC) on 5G development. (See AT&T: Prepping for the 5G World.)
The latest AT&T announcement doesn't quite measure up to Verizon Communications Inc. (NYSE: VZ)'s news that it will start 5G customer trials in multiple cities in April. (See Verizon to Start Fixed 5G Customer Trials in April.)
In the latter case, Verizon has not only committed to a very specific timeline for field tests, but it has set its sights on five different cities that will let it test 5G delivery across a range of geographic environments. Verizon will use spectrum in the 28 GHz frequency band for its trials and has partnered with Samsung Corp. for network and in-home equipment.
---
Want to learn the latest on video delivery technology? Sign up now for Light Reading's Cable Next-Gen Technologies & Strategies event on March 21-22, at the Curtis Hotel in
downtown Denver.
---
AT&T's 5G labs trials are limited in scope, but they still represent an important milestone. As the telco continues to consolidate its video services onto a single platform, it's also using 5G technology to extend its reach to more television households. AT&T is already the largest pay-TV provider in the US thanks to its acquisition of DirecTV Now, but Internet video is typically more accessible than TV delivered over satellite. The IP format also gives AT&T significantly more flexibility to introduce new video services and to iterate on its existing offerings with new features and content options. (See AT&T Debuts DirecTV Now on New Video Platform.)
As AT&T weans away from its early U-verse IP video platform, DirecTV Now offers a next-generation replacement that isn't confined to the company's wireline footprint.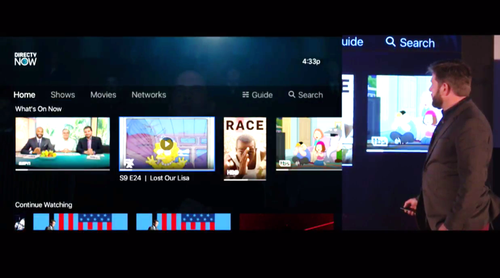 There are still a number of challenges ahead for AT&T in the video market, not least of which is the fact that the company has to prove it can raise the reliability level of DirecTV Now after a series of early mishaps and outages. The telco also has to manage its video revenue carefully as many DirecTV Now customers pay far less for service than traditional pay-TV subscribers. (See AT&T Swears by DirecTV Now .)
That said, AT&T is approaching the strategic dilemma from several angles -- through investment in a consolidated IP video platform, continued pursuit of premium content assets (including the acquisition of Time Warner) and now 5G fixed wireless delivery.
— Mari Silbey, Senior Editor, Cable/Video, Light Reading
PARTNER PERSPECTIVES
- content from our sponsors