Wurl Network Collapses VoD Into Linear TV
ORLANDO – The Independent Show -- Years ago when AT&T launched its U-verse IPTV service, the promise of new viewing features and true interactive television bloomed on the horizon. But for all its commitment to IP, AT&T still relied on a broadcast ecosystem that funneled content into a single pre-packaged form, giving it little opportunity to experiment with new features even as the telco delivered the video over IP in the last mile.
Fast forward to 2016, and the ecosystem has changed. Now that there are not only more operators taking advantage of IP delivery, but also a tidal wave of IP content producers, Wurl Inc. is packaging up a handful of TV channels in a new network that combines a linear, lean-back viewing option with web-like lean-forward interactivity. In an announcement at The Independent Show put on by the National Cable Television Cooperative Inc. (NCTC) today, Wurl is debuting what it calls the "world's first cable TV streaming network."
The new Wurl Network consists of four channels: The Alt Channel, Streaming News Network, The Sports Feed and Popcornflix. Each channel sits in the TV programming guide just like any other station, and when a viewer tunes to that channel, there is content already in progress just like with any traditional TV experience. The Wurl channels only look like broadcast TV at first glance, however. These aren't broadcast video streams, but unicast ones, and viewers have the option to treat the content like they would any online video. Content can be rewound and fast forwarded, and viewers can access an entire catalog of on-demand content from right within the channel.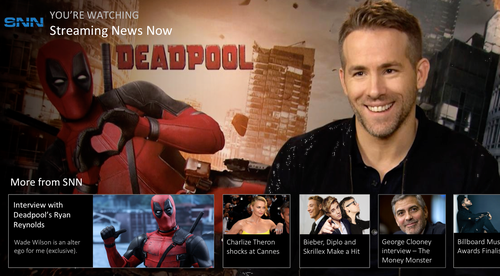 Tuning to a Wurl channel is different from launching an app. Instead of opening up a full portal, each Wurl network simply provides options for additional content beyond the stream playing in the moment. There's choice, but the default is still the traditional couch potato experience. According to the company -- which has been testing its solution with eight operators and roughly 120,000 consumers over the last few months -- the Wurl implementation drives higher viewing and interactivity rates for its content than a standard TV app approach.
There are additional business model advantages to the Wurl solution. Wurl offers new content to IPTV operators at no cost. Revenue comes from targeted, dynamic advertising. Wurl runs the ad decision engine (determining which ads are shown when), and the ad inventory itself can be sold either by Wurl or directly by the service provider.
"The only scarce resource that we ask the operator for when they integrate our service is a number. It's really just a number, a channel number," says CEO Sean Doherty.
He adds, "So far with these Tier 2 and Tier 3 operators, it's been a very, very simple process."
That simple process has led to Wurl integrating with more than 50 operators serving more than 13 million homes. Commercial rollouts to subscribers will begin in August.
---
Want to know more about video and TV market trends? Check out our dedicated video services content channel here on Light Reading.
---
Despite its advantages, Wurl still has to prove it can make money once it's implemented. Doherty estimates the current addressable market at about 55 to 60 million IP set-tops in the US, and 250 million IP set-tops worldwide. But presence doesn't guarantee viewership, and Wurl wants to keep its targeted ad load down at about 4% of viewing time, which caps the ad revenue opportunity.
Notably, Wurl is also relying heavily on online studios and brands for its content. That makes licensing easier, but it may make it more difficult for the Wurl channels to compete with the swath of premium content already available on TV.
Regardless of whether Wurl itself is successful, the Wurl approach is indicative of what's ahead for the television industry. With more of the video market moving toward IP, operators are gaining flexibility to experiment with new styles of delivery. In a more high-profile example, Comcast Corp. (Nasdaq: CMCSA, CMCSK) is introducing numerous IP features -- including stats and highlights -- alongside the broadcast coverage it has planned for the upcoming 2016 Olympics. (See Comcast Boasts Global Plans for X1.)
It's this combination of lean-back TV and optional interactivity that's likely to drive television innovation over the next few years. If IPTV operators get their wish, it's also what will open up new sources of revenue.
— Mari Silbey, Senior Editor, Cable/Video, Light Reading
PARTNER PERSPECTIVES
- content from our sponsors