Video is eating the world, and everyone knows it. But even as traditional TV providers transition their video services to IP delivery, the growth in online video traffic is fast outpacing that of managed IP video traffic. In other words, the bandwidth load from over-the-top video is growing far faster than the bandwidth load from IP video delivered by pay-TV operators.
According to Cisco Systems Inc. (Nasdaq: CSCO)'s latest Visual Networking Index (VNI) report, video will make up 82% of IP traffic worldwide by 2020, compared to 70% in 2015. However, the percentage of traffic given over to unmanaged video looks to increase roughly 3x, while the percentage of traffic driven by managed IP video -- which is already a smaller portion of total bandwidth usage today -- looks only to double in the same time period. Online video is projected to increase as a percentage from 47.4% to 67.1%. Managed IP video, on the other hand, is actually projected to decrease as a percentage from 22.3% to 14.8%.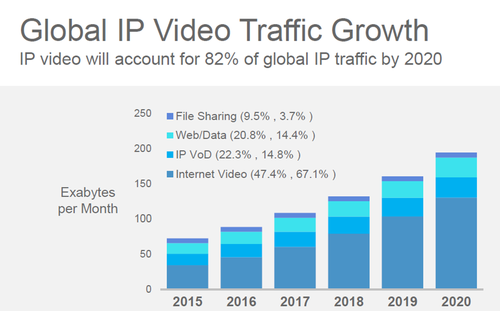 Equally interesting from a network management point of view is the fact that collective bandwidth usage during peak hours is growing at a faster rate than total bandwidth consumption. Cisco's data suggest that traffic during the busiest hour will rise at a rate of 36% between 2015 and 2020, but that traffic during an average hour will only increase by 24.9%.
---
Want to know more about video trends? Check out our dedicated video services content channel here on Light Reading.
---
Why does all this matter? Because it means that Internet service providers and content producers have a lot more to worry about in terms of optimizing online performance. And it means that there's a significant ongoing business opportunity for companies that can help mitigate the problem.
Given the trends, Cisco unsurprisingly predicts that content delivery networks will shoulder a bigger portion of the load of online traffic in the coming years. According to the VNI forecast, the percentage of traffic carried by CDNs will jump from 45% in 2015 to 64.5% in 2020.
Here are some of the other interesting statistics from Cisco's analysis:
Global IP traffic will reach 2.3 zettabytes per year by 2020.
Ultra HD video will rise from 2% of IP traffic in 2015 to 16.3% in 2020, while HD video will increase from 51.2% to 63% and SD video will drop from 46.7% to 20.6%.
Although traffic generated by virtual reality applications is expected to increase 61x by 2020, it will still total only amount to about 1.1 exabytes per month, or less than half a percent of total IP traffic.
Cisco predicts that the number of mobile video subscribers will continue to rise. In 2015, the number of mobile video users was roughly on par with the number of users viewing online video and digital TV. By 2020, that number is projected to be more than half again as much as the number of viewers in either of the other two categories.
Viewing behavior around the globe is consistent. The higher the average broadband speed, the more time users spend watching video online.
Cord-cutting households use more bandwidth per month than non-cord-cutting households -- 92GB per month in 2016 compared to 43GB per month.
— Mari Silbey, Senior Editor, Cable/Video, Light Reading