A year and a half after acquiring Mediaroom from Microsoft, Ericsson plans to debut a new television platform for service providers this spring. But it's not a Mediaroom update.
Instead, the new MediaFirst IP video platform from Ericsson AB (Nasdaq: ERIC) is brand new technology. According to Vice President of Marketing Ben Huang, the development team had Mediaroom "stripped down to bare metal" before starting in on MediaFirst. Now, the company is getting ready to release the product commercially and will target not only its traditional telecom customers, but additional service provider types as well.
Ericsson acquired a significant customer base when it picked up Mediaroom from Microsoft Corp. (Nasdaq: MSFT), and that platform continues to gain subscribers in many places where it is already the incumbent solution. However, Mediaroom has also become an aging technology in an increasingly competitive, rapidly changing space.
As Huang explained in a recent conversation, Ericsson decided to make the best of the situation by taking the talents of the Mediaroom leadership team and directing them toward building something new. Ericsson also acquired adaptive bitrate specialist Azuki Systems last February for its multiscreen expertise, and, with those combined assets, created MediaFirst. (See Ericsson Bags Azuki Systems.)
Huang showed off MediaFirst at CES earlier this month. It's a polished, customizable experience and includes many features that have become regular components of advanced TV platform demos. Some of the more impressive capabilities of the platform include the ability for viewers to flick content from a mobile device to a TV screen, and the ability for service providers to push alerts to the TV when recommended content becomes available.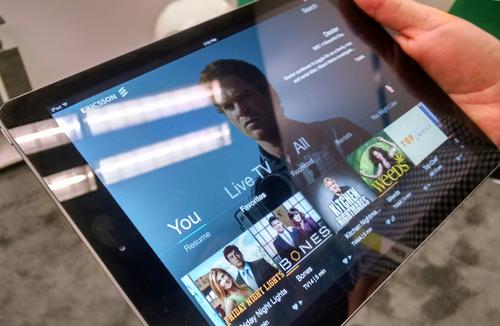 Ericsson has also done some interesting things with user profiles and personalization. MediaFirst can recognize users across multiple screens and use proximity information to serve up relevant programming when a user nears his or her TV. For example, if a subscriber enters the living room with a mobile phone, the TV there can be made to acknowledge that arrival and offer up personalized content for the user. Huang said the goal is to make devices more intelligent about each other in order to improve the overall viewing experience.
As part of the personalization technology, Ericsson uses something that it calls "warm logic." As Huang described it, warm logic allows the MediaFirst platform to track multiple profiles at once and gracefully tailor the TV UI so that the recommended content makes sense for all of the users present.
---
Get the latest updates on new video services and technologies by visiting Light Reading's video services content channel.
---
Ericsson may have an uphill battle ahead as it makes up for months (some would say years) of stagnation with Mediaroom. Already, Swiss operator Swisscom AG (NYSE: SCM) has unceremoniously dumped the platform because it wasn't convinced there was a clear roadmap for upgrades. (See Ericsson Suffers IPTV Evolution Pains.)
But Ericsson is making the necessary investments to give it the potential for a fresh start with service providers. While Mediaroom may be in decline, Ericsson is hoping that MediaFirst will appeal as a next-generation solution.
— Mari Silbey, special to Light Reading