It's been several years since Cisco first turned its gaze toward cloud-based video services, and while it's taken multiple acquisitions, product iterations and name changes, the company now says it has consolidated its efforts onto one unified video delivery platform. The Infinite Video Platform (IVP) is the grown-up version of Videoscape, which Cisco launched in 2011, and it's the merger of multiple cloud-based Infinite Video products now bound together in a single offering.
Cisco's IVP works for cable, satellite and over-the-top video providers, and that includes programmers as well as traditional service operators. The company claims more than 60 IVP customers around the globe, and at CES 2017 Cisco Systems Inc. (Nasdaq: CSCO) introduced IVP Labs for accelerated feature development within the platform. (More on that in a moment. See also Cisco Launches Infinite Video Platform Labs.)
IVP options for managing video delivery include service modules for: Linear, On Demand, Analytics, Administration, Packages, Subscribers, cDVR and Policies, Service Provisioning, Devices, Security Services, Advertising and IVP Labs. For any video provider that doesn't want to take on the role of platform creator (Read: Comcast) or ongoing systems integrator, Cisco offers a solution for scalable growth in the IP video business.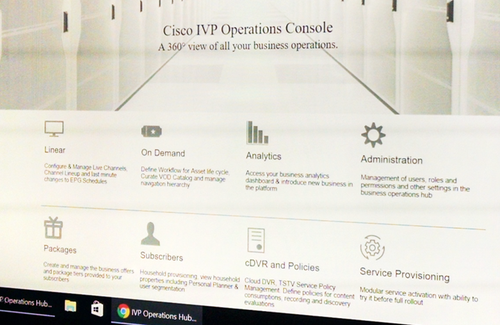 "We're trying to fulfill the promise of making IP better than broadcast," says Rajeev Raman, a senior director at Cisco, echoing the words of SVP Conrad Clemson in a recent interview with Light Reading founder Steve Saunders. (See Cisco's Clemson on Mobile Cloud Video.)
Just looking at some of the live, linear OTT video services offered today -- notably new DirecTV Now -- there's clearly still work to do from a user experience perspective. (See OTT Went Big in 2016, Aims Higher in 2017.)
However, Raman is talking about more than just managing traffic load for smooth video streaming. He's also talking about improving IP video delivery from a business standpoint so that more it's more scalable and cost effective than traditional broadcast television. Cisco wants video providers to be able to innovate, introduce new features and develop new revenue streams faster with Cisco's cloud.
That service velocity is also where IVP Labs comes into play. Customers can opt in to IVP Labs then use it to test new features in a staging area and work with Cisco to build them into the IVP roadmap. Israeli TV company YES is Cisco's launch partner for IVP Labs, and the operator has already used the lab environment to design and test a personalized user interface that can be targeted to different viewers.
At CES, Cisco also showed a sample chatbot feature for content recommendations hosted through IVP Labs.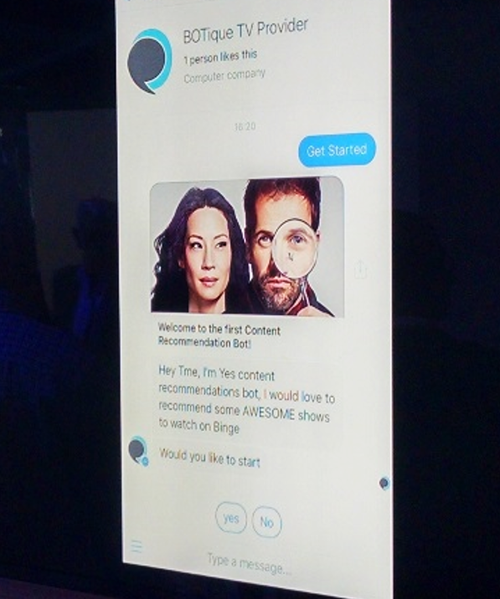 The advantage for customers in joining IVP Labs is early access to new features as well as feedback from Cisco and others. "Operators get to bring their crazy ideas to the table," says Raman. At the same time, IVP overall remains a standardized product, with all the structure and support that entails.
Like any company that has gained some success with a product, Cisco is now working to create a collective of IVP users. Think of it like a user group, or better yet, a developer community.
IVP Labs is the logical next step for a company with a maturing cloud-based platform.
— Mari Silbey, Senior Editor, Cable/Video, Light Reading