German Video Revenues Hit New Heights – VPRT
According to a new report from German commercial broadcast association VPRT, pay-TV and (paid) VoD revenue grew 11% over last year across German-speaking territories (Germany, Austria and German-speaking Switzerland), reaching an all-time high of €3 billion ($3.51 billion). Germany accounted for the bulk of 2016 revenue, at €2.7 billion ($3.16 billion), up about 8% from 2015.
The VPRT is forecasting similar growth for the region in the coming year, with full-year 2017 revenue expected to reach €3.4 billion ($3.98 billion).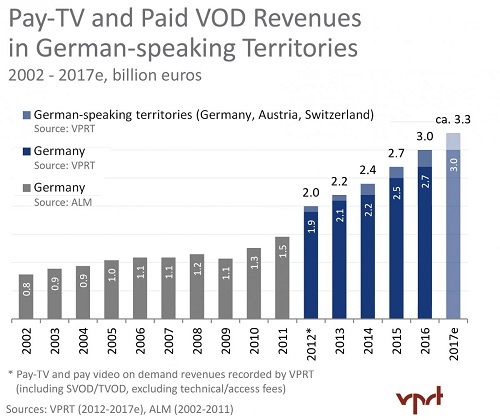 The Association of Commercial Broadcasters and Audiovisual Services, or more correctly Verband Privater Rundfunk und Telemedien e.V. (VPRT), is an organization composed of commercial broadcasting and audio-visual companies in Germany. It has approximately 140 members who provide TV, radio, online and mobile media services.
As part of its duties as a trade association, it monitors market developments in the German media sector via regular surveys and publications. These include studies on media usage, the advertising market, audio-visual media revenue and pay-TV and VoD presented earlier this week in the report "Pay TV in Germany 2017" by the VPRT's Pay-TV Working Group.
Long seen as a difficult market in which to sell pay-TV services, over the past few years Germany has evolved into a robust premium video market with significant opportunities for service providers to add pay-TV subscribers and for new, subscription-based VoD services.
The VPRT reports that the number of pay-TV subscribers rose 300,000 to 7.6 million in Germany during 2016, and 8.4 million across the German-speaking region. It anticipates the German subscriber base will grow to 7.9 million in Germany and 8.7 million across the region. On average, 13.1 million German viewers viewed pay-TV shows every month in 2016, rising to 15.8 million in the first half of 2017.
The largest pay-TV and pay-TV-on-demand platforms in the German market are Sky Germany, Vodafone, UnityMediaKabelBW, Telekom and M7, according to VPRT. In other parts of the region, key platforms include Sky Austria, UPC Austria and the Teleclub in Switzerland. These providers offer both pay-TV and non-linear multiscreen options for viewers.
In addition, there are OTT providers such as Amazon Channels, Magine and Zattoo that offer a variety of content including TV channels, as well as the large global OTT players such as Amazon Prime, Netflix, and German VoD provider Maxdome.
— Aditya Kishore, Practice Leader, Video Transformation, Telco Transformation
PARTNER PERSPECTIVES
- content from our sponsors