Lowering the financial barriers for consumers looking to make the leap to 4K and High Dynamic Range video, Roku has introduced a new model that gets them in the game for less than $40.
The company's new 4K-capable Roku Premiere carries a manufacturer's suggested retail price of $39.99, while the Roku Premiere+, sold exclusively through Walmart and bundled with a voice remote, fetches $49.99. The previous version of the Roku Premiere sold for $69.99 and used a larger form factor.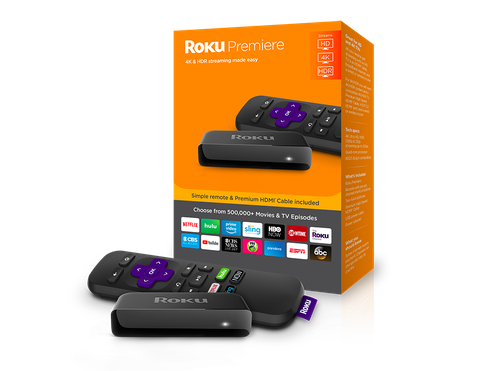 Roku Inc. 's newest line-up of 4K streaming players also undercuts the price of Roku's $89.99 Streaming Stick+, which also supports both 4K and HDR. Both the Premiere and Premiere+ models will become available in early October; the Premiere is already available on pre-order at Roku.com.
The high-end Roku Ultra stays at $99.99 and also supports 4K and HDR, but now includes a premium set of JBL headphones that is valued at $39.95, according to Roku.
A sub-$40 price on the Premiere could help to drive adoption of 4K video as Netflix, YouTube and other OTT services continue to broaden their Ultra HD libraries and as more pay-TV providers look to launch or expand their 4K offerings. (See fuboTV Launches 4K HDR Beta and Dish, T-Mobile's Layer3 TV Offer Epix's 4K Fare .)
Outside of players and content, the other big piece of the 4K ecosystem is, of course, the television display. Roku is hitting on that part of the market with several 4K TVs that run its operating system. Adoption of 4K televisions has been on the rise -- the Consumer Technology Association forecasts that 18.6 million 4K TV units will be sold in 2018, an 11% year-over-year increase, even as the broader digital display market is expected to drop 6%.
Roku doesn't break out what percentage of its sold players are of the 4K variety, but active accounts (which include consumers who use integrated Roku TVs) reached 22 million at the end of Q2, up 45% year-on-year.
Though Roku's Player revenues have long been eclipsed by the company's Platforms business (advertising, OS licensing and subscription revenue sharing), the refreshed line-up aims to help Roku maintain its lead in the streaming player market while also lowering the price point on 4K-capable devices.
---
Home in on the opportunities and challenges facing European cable operators. Join Light Reading for the Cable Next-Gen Europe event in London on Nov. 6. All cable operators and other communications service providers get in free!
---
Among competitors, Amazon.com Inc. (Nasdaq: AMZN)'s 4K/HDR Fire TV dongle has a list price of $69.99, but at the last check was being offered to Amazon Prime subscribers for $39.99. The Apple TV 4K, meanwhile, starts at $179 for the 32GB model. The Android TV-powered MiBox from Xiaomi sells in the neighborhood of $65 to $80, depending on the retail outlet.
Though it's not a standalone streaming player like the others mentioned above, Google's 4K-capable Chromecast streaming adapter can be had for $35.
As part of its fall refresh, Roku also announced a software update for Roku TVs (version 8.2) that will integrate with the company's coming line-up of wireless speakers, as well as a bigger release, Roku OS 9. Of note, Roku said it will soon enable the use of Google Assistant devices to control Roku's streaming devices. (See Roku Pumps Up the Volume .)
Roku OS 8.2 is starting to be rolled out to Roku TVs today, with completion slated for November. Roku OS 9 will start to reach Roku streaming players in early November and Roku TVs by early next year. Roku expects the deployment of OS 9 to wrap by Q1 2019.
— Jeff Baumgartner, Senior Editor, Light Reading