If you've always wanted to travel to space, but don't have the resources of Elon Musk or Richard Branson, the new NASA Ultra HD channel may be the next best thing.
NASA and Harmonic Inc. (Nasdaq: HLIT) have announced a new UHD channel that will include video and high-resolution imagery from current and former space missions, as well as rocket launch footage and video feeds of training and development sessions. When the channel launches on November 1, it will be the first consumer UHD channel in North America.
According to Harmonic CMO Peter Alexander, NASA knew that it had the potential to compress its existing NASA TV channel in order to free up more bandwidth. Harmonic was able to do that compression efficiently enough to leave room for a whole new Ultra HD channel, which will stream at a bit rate of about 13 Mbit/s. Production and distribution of the live, linear channel are also powered by several Harmonic technologies, including the Ellipse 3000 contribution encoder, ProView 7100 integrated receiver-decoder (IRD), MediaGrid shared storage system, Polaris playout management suite, Spectrum X advanced media server system, Electra X3 advanced media processor, ProMedia Origin packager and streaming video server, and NSG Exo distributed CCAP system. (See Harmonic, Intelsat Unveil UHD Test Channel.)
Harmonic is taking raw footage from NASA and then colorizing and editing the video into roughly 20-minute segments. Because the station will be broadcast in the clear, consumers will be able to view it by setting up a C-Band dish and an integrated receiver-decoder with any UHD TV. Harmonic is also talking to service providers about picking up the channel and hopes to have more to announce there soon.
On the NASA side, NASA DTV Program Manager Rodney Grubbs is enthusiastic about bringing footage from space to consumer TVs, especially because the space agency has taken a tremendous amount of video over the last five years.
"We have a 6K camera on the space station," notes Grubbs. "[It's the] same camera that The Hobbit was shot with."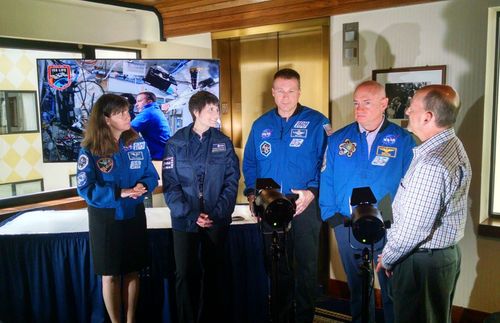 At a press conference with NASA this morning (many more photos and insights from the astronauts to come), several astronauts saw their own footage from the International Space Station shown for the first time on a large-screen UHD display. Asked if he would buy a 4K TV, retired astronaut Captain Mark Kelly responded by asking if the National Football League is broadcast in UHD yet. "I would get one then," added Kelly.
The new UHD channel will not support High Dynamic Range (HDR) technology at launch. But there are discussions between NASA and Harmonic about adding HDR and color-space technologies in the future as new standards emerge.
— Mari Silbey, Senior Editor, Cable/Video, Light Reading