All hail the next 4K advance.
DirecTV Group Inc. (NYSE: DTV) (now part of AT&T Inc. (NYSE: T)) has announced the launch of a new 4K Genie Mini set-top made by Pace plc , which will allow subscribers to access Ultra HD content on something other than a Samsung TV set.
The news follows somewhat belatedly on the introduction last year of DirecTV's 4K video service. As the first pay-TV provider to enter the market, DirecTV earned credit for its speedy uptake of 4K in 2014, but the company has also had to manage expectations around its limited UHD experience ever since. The only UHD content available from DirecTV is a library of on-demand titles, and in order to access that content, viewers have to possess a Genie HD DVR and a specific model of Samsung 4K TV.
The coming of the 4K Genie Mini changes things... somewhat.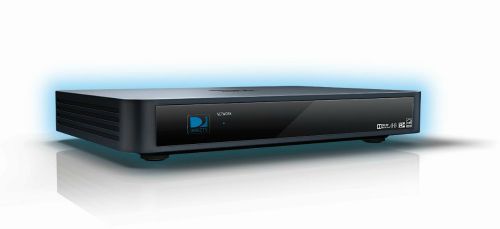 On the positive side, subscribers will no longer need a Samsung set to watch 4K content. However, watching 4K TV won't be as simple as hooking up a Genie Mini to any UHD TV. Users will still need a Genie HD DVR box in addition to the Mini set-top and a 4K set.
So far there's also no word on when the 4K Genie Mini will be available, or whether it will launch in all markets on day one. UPDATE: A DirecTV spokesperson has stated that the 4K Genie Mini is now available nationwide.
The long-term outlook for Ultra HD is positive, but there are still major hurdles for the industry to overcome. Lack of content, heavy bandwidth requirements and the growing belief that High Dynamic Range (HDR) technology should be folded into UHD deployments are all holding 4K TV back. New battles around licensing fees for the High Efficiency Video Codec (HEVC) threaten to slow adoption even further. (See Fuzzy Outlook for Ultra HD and Cisco Debuts Thor in Video Codec Fight.)
Pay-TV providers have rightfully been wary of making 4K commitments. Aside from DirecTV in the US, only Comcast Corp. (Nasdaq: CMCSA, CMCSK) has debuted 4K service (supporting only on-demand content), while Dish Network LLC (Nasdaq: DISH) has promised to follow suit sometime this summer. Videotron Ltd. in Canada has also unveiled a 4K set-top and said it will launch a UHD service by season's end. (See Comcast Plans 4K & HDR Set-tops and Videotron Launches Ultra-High-Definition Service.)
---
Want to know more about pay-TV market trends? Check out our dedicated video services content channel here on Light Reading.
---
Things are a bit better on the other side of the pond. BT Group plc (NYSE: BT; London: BTA) has not only started 4K service, but it launched an actual UHD sports channel with live broadcasts earlier this month. Live 4K content is limited, but BT is broadcasting several major soccer matches in August, with a promise to deliver more live sports in Ultra HD later this year. (See BT Unveils UHD TV Prices in Challenge to Sky.)
As for DirecTV, there are no details yet on when it will offer live 4K content, but at least the company is paving the way with new Genie set-tops that support UHD.
— Mari Silbey, Senior Editor, Cable/Video, Light Reading