The newest Comcast set-tops supporting High Dynamic Range and Ultra HD video, sadly, haven't made it to market yet. But that's not stopping Comcast from showcasing its Olympics coverage in both HDR and 4K. Or from breaking out a virtual reality demo featuring the sights in Rio. Or from showing off live Olympic event coverage on the ginormous lobby wall at Comcast HQ in Philly.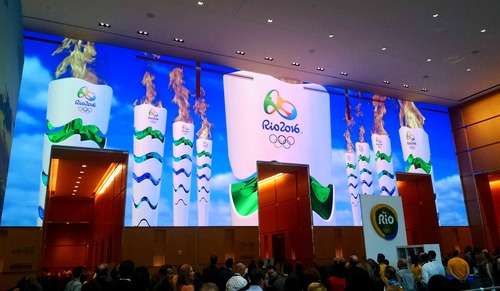 Comcast Corp. (Nasdaq: CMCSA, CMCSK) hosted an Olympics screening party Thursday night to bolster its status as both a video technology leader and top-dog Philadelphia corporation. In front of hundreds of guests, the cable company trotted out a combination of pre-produced and live content. In addition to the video wall, which alternated between featuring wall-sized graphic effects and live video in smaller in-set displays, Comcast highlighted 4K HDR footage in a side demo with content adapted from an 8K feed out of NHK in Japan. (See AT&T & Dish Mix 4K Into Olympics Coverage.)
No other US operator has access to HDR footage from the Olympics. So while there's little opportunity for Comcast to share the super-vivid, high-res content with mainstream consumers (you need the Xfinity UHD app plus a Samsung or LG TV to view any Comcast 4K video), the company is still trying to make the most of its unique assets. According to Mark Francisco, engineer and fellow in Comcast Innovation Labs, Comcast has been showing off the HDR experience around to different programmers to get them excited about producing new UHD content.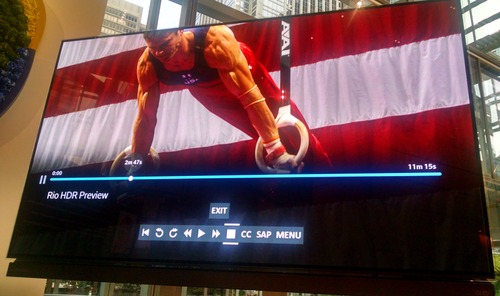 The demo doesn't come cheap in bandwidth terms. In order to deliver the 4K-resolution HDR picture at 60 frames per second, Comcast is using a whopping 35Mbit/s bitrate. That's almost an entire QAM channel's worth of bandwidth. However, Francisco says that bitrate number will come down with next-generation encoders, probably to an amount under 20 Mbit/s.
Of note, Comcast is using the open HDR10 format to stream its Olympics video, rather than one of the premium formats offered by Dolby Laboratories Inc. (NYSE: DLB) or Technicolor (Euronext Paris: TCH; NYSE: TCH). But the cable company isn't ruling out the use of other HDR technologies in the future. (See Vubiquity, Technicolor Pioneer HDR Conversion and Technicolor 'Magic' Brings HDR 1 Step Closer.)
---
Want to know more about video and TV market trends? Check out our dedicated video services content channel here on Light Reading.
---
In a separate demo from the HDR video station, Comcast also showed how its content could be experienced in virtual reality, or at least in 360-degree surround view. The company used video from Rio taken before the Olympics to guide viewers on an immersive tour of the city, courtesy of an Oculus Rift headset. There aren't any 360-degree videos available publicly from Comcast today, but according to a product developer on site, that will probably change within months. In all likelihood, 360-degree videos will starting popping up in the "Labs" section of its X1 platform soon.
Comcast Senior Executive Vice President David Cohen also laid down his own marker for VR at yesterday's Philadelphia event. In a speech to the crowd, Cohen said he expects there will be a lot of VR content available when the Summer Olympics return in four years.
— Mari Silbey, Senior Editor, Cable/Video, Light Reading