9:25 AM -- Verizon Wireless 's purchase of spectrum from four cable operators appears poised to hop its final regulatory hurdle as the Federal Communications Commission (FCC) is expected to announce soon that it's unanimously in favor of the deals, according to Broadcasting & Cable. (See Wait for It! Verizon 4G Deal Still Needs FCC OK and Verizon Close to Clinching Cable Spectrum Deal.)

The release of that vote, anticipated to occur on Thursday, would pretty much seal up the deal, which includes several conditions originally imposed by the U.S. Department of Justice . Among the bigger ones, Verizon Wireless is barred from cross-selling its wireless services with its MSO partners' cable TV and broadband offerings in markets where Verizon Communications Inc. (NYSE: VZ) has deployed FiOS. The DoJ didn't place any such restrictions on Verizon Wireless's cable partners.

As we pointed out earlier in list form, the restriction will prevent Verizon Wireless from bundling cable services in some big cities, including New York City, Boston, Philadelphia, Baltimore and Dallas. (See Cable OK to Attack FiOS With Verizon Wireless.)

But we can now share a more visual, aerial view of where these overlapping, cold zones are, courtesy of Mosaik Solutions LLC (formerly American Roamer), a company that uses geospatial data to map out just about anything involving mobile and fixed service coverage, and even broadcast television footprints.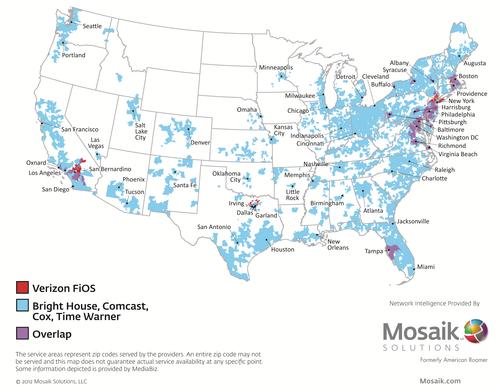 For a larger view of this map, please go here.

When shown in this view, Verizon Wireless's restrictions are concentrated, but spotty. Sure, Verizon Wireless have to tone it down in some major markets, but most areas where its cable partners operate are there for the attacking.

And Mosaik's mapping magic, handy for regulatory wonks and marketers who need to size up where their competition is, isn't relegated only to the U.S. President and CEO Bryan Darr says the company began collecting wireless information on a global basis about five years ago (Amazon.com Inc. (Nasdaq: AMZN), for example, uses Mosaik to help Kindle users discover where around the world the device has 3G coverage for book downloads). He expects Mosaik to expand its cable coverage into Canada and Mexico sometime during the next year.

And Mosaik's already helping the customers of some cable operators, including Time Warner Cable Inc. (NYSE: TWC), Rogers Communications Inc. (Toronto: RCI) and Comcast Corp. (Nasdaq: CMCSA, CMCSK), to keep tabs on where those MSOs offer Wi-Fi.

— Jeff Baumgartner, Site Editor, Light Reading Cable