IRVING, Texas -- If you subscribe to Verizon Communications Inc. (NYSE: VZ)'s FiOS TV, you may someday soon be able to enjoy the best Internet videos ever made without requiring a laptop in the living room. Click the image below to see a slideshow of some new FiOS features and beta: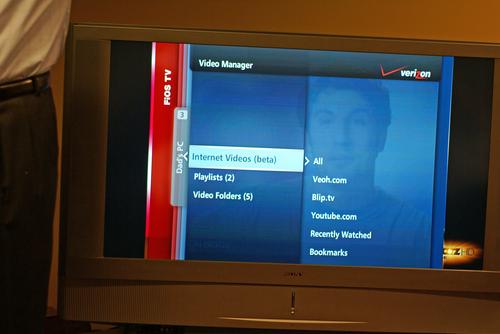 A noteworthy beta-test using Verizon's FiOS Interactive Media Guide includes the ability to watch videos from YouTube Inc. , Blip.tv , and other Internet properties, by simply searching and selecting them from the TV. No new set-top box is needed for the Internet video feature. No Apple TV, no TiVo, and no other hardware or media adapters are required, either.

Verizon executives, speaking to a small gaggle of journalists at its offices today, said they'll soon be integrating Starz Play, the wholesale video download service from Starz Entertainment LLC , into the Internet video menu as well. (See Verizon Downloads 'Starz Play' Deal.)

The gambit here is for Verizon to give consumers access to various forms of video entertainment via a broadband connection to the existing set-top box -- without getting in the way -- in hopes that its FiOS TV customers won't leave someday for Internet-only programming.

Telcos and cable operators have been promising for years to bring Internet video to the living room in a way that it could be enjoyed right alongside traditional broadcast programming. Verizon has actually pulled it off, and, from what it demonstrated today, it did so without putting up a walled garden to restrict what kinds of YouTube videos are available to watch. (See Internet Video Heads Mainstream and Yahoo Yells for Internet TV.)

The Internet video beta test will be ongoing, Verizon says, in different parts of the country, and it may appear as a permanent part of the FiOS Interactive Media Guide once the tests are complete.

Some more concrete things happening with Verizon's FiOS Interactive Media Guide include a software upgrade that will allow users to stream high-definition content using Verizon's now two-year-old whole-home DVR service. With that upgrade, FiOS customers can watch up to three separately recorded HD shows on three different TV sets in the home simultaneously. Before the upgrade, the WHDVR product allowed users to view a recorded program, in standard definition only, on up to seven TV sets in the home.

The Verizon FiOS Interactive Media Guide upgrade is rolling out this fall, region by region, nationwide, execs here say.

RS-DVRs?
When talking to Verizon's FiOS experts, it's always worth asking about one of the cable world's hottest topics, the RS-DVR. Verizon says it is waiting for some digital rights management issues to be sorted before it explores that kind of service. (See Court Resurrects Cablevision's Network DVR .) Shaygan Kheradpir, Verizon's CIO, says his company's network isn't holding the telco back from such a service. "This, for us, is not a technical issue, but a legal and business issue."

Kheradpir, in fact, was adamant that Verizon wants to use its network to provide more services -- as much as it can, without the need for additional hardware in consumer homes. "We are not going to slow down because of the limitations of these devices," he said, pointing to a set-top box.

— Phil Harvey, Managing Editor, Light Reading


---
Interested in learning more on this topic? Then come to TelcoTV 2008, a conference and expo that will examine the convergence of communications and entertainment, and its impact on service providers from across the globe, to be staged in Anaheim, Calif., November 11-13. For more information, or to register, click here.


---