Verizon Wireless customers will be setting their alarm clocks for 3 a.m. to get first dibs on the Apple Inc. (Nasdaq: AAPL) iPhone, but next week Big Red will offer the iconic device to all. Its Tier 1 competitors -- the scorned partner AT&T Inc. (NYSE: T), fellow CDMA operator Sprint Corp. (NYSE: S), and FauxG fan T-Mobile US Inc. -- aren't sitting idly by. (See Verizon Finally Gets the iPhone 4 and Are You Getting a Verizon iPhone?)

They have spent the month between Verizon's announcement and the CDMA launch date making last-ditch attempts to keep their customers from jumping ship. (See Verizon iPhone Questions.)

Here's how the three have responded, either offensively, defensively or both:


AT&T: AT&T stands to lose the most customers, given the number of disgruntled iPhone users it serves. The carrier has jumped on board the fauxG marketing trend and beefed up its line of Android devices ahead of Verizon's launch, as well as announced plans to mix in more Windows Phone 7 and BlackBerry devices. (See AT&T's Answer to the Verizon iPhone: Android & Friends, Verizon's iPhone: Angst for Android and AT&T Has FauxG Too.)

But, it has also taken an offensive posture, most recently with e-mails to its customers offering 25 percent off a mobile accessory and reminding them that they could make a call while they read the e-mail on their iPhones, something Verizon subs won't be able to do. A separate email touted AT&T's global coverage and yet another included a fact sheet on AT&T's "iPhone network advantage."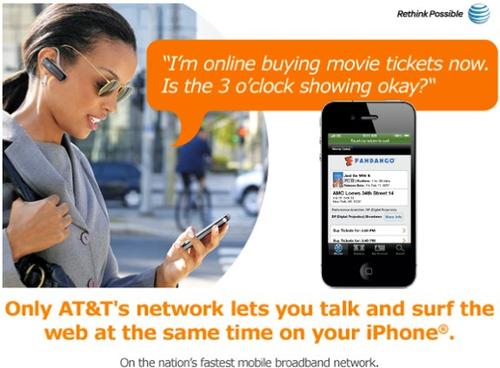 Last month, AT&T quietly began allowing users who previously subscribed to unlimited data to switch back. Reportedly, the option was just offered to users who called customer service and threatened to leave or asked for the option.

The carrier also dropped prices on the iPhone 3G S prices from $99 to $50 just days before Verizon made its big announcement.

Tuesday, it also introduced the High Tech Computer Corp. (HTC) (Taiwan: 2498) Inspire, a new HSPA+ smart phone, for just $99 on contract, half the price typically associated with high-end devices. (See AT&T Offers HTC Inspire 4G for $99.)


T-Mobile: T-Mobile wasted no time lumping Verizon in with AT&T in its commercials depicting the out-of-shape, overwrought networks of its competitors who claim that "no choice is still a choice." Check out the video below.



The carrier is hoping its "4G" message will resonate with consumers who likely don't know the technical specs of HSPA+, but it also realizes that it can't beat the big guns with iPhones. T-Mobile USA CEO Philipp Humm told investors the smaller carrier would focus on the segment of Americans who want high-end smart phones, but can't afford the price. (See T-Mobile Preps its First Android 3.0 Tablet and T-Mobile Demos 42Mbit/s HSPA+ in NYC.)


Sprint: Now that Apple has made a CDMA version of the iPhone, Sprint could be on the list of potential recipients. As such, it hasn't gone after potential switchers as earnestly as its competitors. Beatweek Magazine noticed that the carrier even took out a line its HTC Evo commercial that states the Evo is better than the iPhone amongst a list of other quotes praising the device.

Sprint also recently upped the data charge on its 3G smart phones another $10, indicating it expects data on its network to continue to grow. (See Sprint Raises 3G Prices to 4G Levels.)

Sprint announces its fourth-quarter earnings on Feb. 10, the same day Verizon lets others in on the iPhone. We won't get a real feel for how the Verizon iPhone has affected its competitors until then, when demand for the phone is sure to quickly outstrip supply.

— Sarah Reedy, Senior Reporter, Light Reading Mobile