2:00 PM -- Verizon Wireless was at Macworld this week. Proof:




So... Is this a sign that AT&T Inc. (NYSE: T) is about to lose its U.S. monopoly on the iPhone?

Not exactly. Verizon was there to talk to its own customers, and to promote the Novatel Wireless Inc. (Nasdaq: NVTL) cellular modems for adding wireless broadband to a laptop. Realizing the sensitivity of the whole iPhone thing, Verizon took a corner booth and promised Apple Inc. (Nasdaq: AAPL) to not talk trash. "They asked us to keep it low-key," says Steve Garrido, a Verizon data solutions manager.

Still -- beyond Macworld, Garrido admitted he gets asked whether Verizon might hook up with the iPhone.

Unrelated: Here's a shot of the demo table Apple set up for the MacBook Air, the star of Steve Jobs's keynote. I'm guessing that's a Time Capsule in the foreground.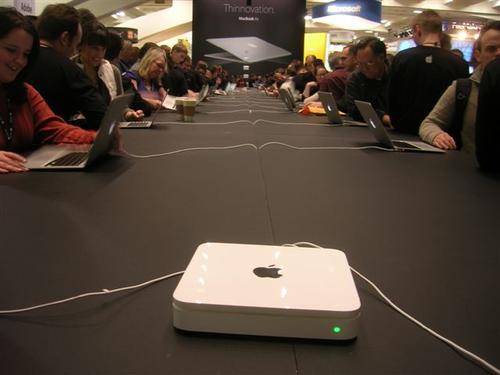 — Craig Matsumoto, West Coast Editor, Light Reading