Cross-platform play
Verivue also claims its system can support different video formats for different devices without having to dump them into separate "silos." But the company won't use transcoding. Instead, the system is capable of handling different protocols for TV and the Web on the fly.

"It's one distribution network and one delivery mechanism," Dolce says.

Architecturally speaking, Verivue believes its gear will play a key role as MSOs and telcos take on more CDN-like hierarchical characteristics. In that scenario, the entire content menu is stored (and duplicated) on a central library farm, and titles are distributed to regional caches and edge nodes based on their popularity. The idea is to keep transport costs in check by ensuring that the most used titles don't have to travel as far to get to the customer.

Verivue's storage elements won't live in the master library, which will remain the domain of network-attached storage (NAS) technology. Instead, Verivue believes its gear will reside in the regional caches and edge nodes.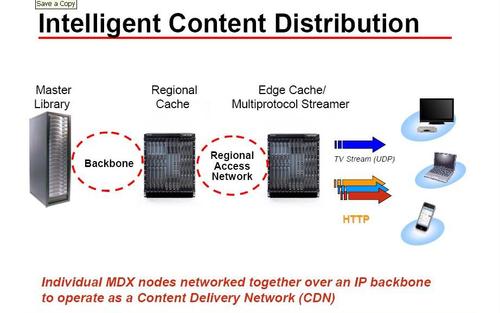 Verivue seeks to replace or supersede legacy VoD video pumps/servers, which, in Dolce's view, represent more "conventional technology" for smaller content libraries, and which, generally, are more limited in capacity and scale when compared to the demands of the future.

"You can't replicate 100,000 titles… at every headend. The notion of replicating that library is no longer feasible," says Dolce, a former Juniper Networks Inc. (NYSE: JNPR) exec and Light Reading Mover & Shaker.

Although Verivue's first product won't be commercially available until the second quarter, the company says it's already involved in some trials and beta tests with unnamed MSOs, telcos, and CDNs.

Arris is Verivue's first reseller partner, but the company expects to add others to address different market segments.

Competitive game-changer?
Arris has previously said that its partnership with Verivue will not prevent further investment in its previous-generation VOD gear, which includes the n5 server and the more compact n5c. But the reseller arrangement automatically makes Arris a player as MSOs get ready for upgrades.

"I don't know if [the Verivue deal] puts Arris in the driver's seat, but it certainly gives them a boost," says Heavy Reading senior analyst Alan Breznick. "And it gives them a play they didn't have before."

Arris "was due for an upgrade at some point," adds Jeff Heynen, directing analyst, broadband and video, at Infonetics Research Inc. "This [partnership] gives them a next-generation platform to go with to that existing customer base."

Verivue's emergence will likewise apply significant pressure on other vendors that have supplied servers and video pumps to cable operators for the past decade, including market leader SeaChange International Inc. (Nasdaq: SEAC), as well as Motorola Inc. (NYSE: MOT), Concurrent Computer Corp. (Nasdaq: CCUR), and Cisco Systems Inc. (Nasdaq: CSCO).

Verivue "introduces a new competitive dynamic, and obviously all of those more traditional VOD server vendors will really have to take another look at their architectures," Heynen says.

And most of them already have. SeaChange and Concurrent, for example, have already separated their hardware from their VOD backoffice systems, and have also started to incorporate Flash into their server portfolios. (See SeaChange Flashes Buckeye, SeaChange Software Strategy Surges , and Concurrent Bows Flash Gear.) Cisco, meanwhile, has been looking to capitalize on its 2006 acquisition of Arroyo Video Solutions. (See Cisco's Video Transformation and Cisco Snatches VOD Vendor Arroyo.)

Another competitive consideration is Edgeware AB , a Swedish company that's also keen on Flash VoD technology and making its mark in North America. (See Edgeware Brings Flash to VOD.)

Although Verivue appears to be bolting from the blocks quickly, thanks to its reseller deal with Arris and an investment from Comcast, the newcomer will have to prove itself very quickly if it's to make hay in next-gen deployments. Competition will be fierce.

"The window of opportunity for Verivue will be short," Heynen predicts.

— Jeff Baumgartner, Site Editor, Cable Digital News