VCs Pumped $3B into Metro Networks
Optical Ethernet and metropolitan networking companies have received billions in investment capital, despite the fact that they now face lower valuations and an imminent shakeout.
According to the latest report from
Light Reading
's subscription service, the
Optical Oracle
, VCs have funneled over $3 billion into 37 startups in the optical Ethernet space over the past two years.
The report, entitled "Optical Ethernet: The Shock of the New", finds the biggest portion of this funding (about $1.67 billion) has gone to companies developing metropolitan area networking gear for use by enterprise customers and carriers.
Another $1.54 billion has gone to service providers specializing in optical Ethernet connectivity. A smaller chunk (about $415 million) has gone to firms supplying components to equipment vendors.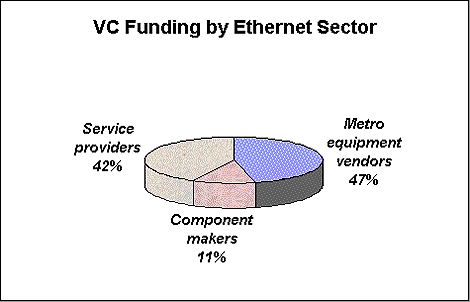 Much of the investment in optical Ethernet has come from leading firms, such as
Goldman Sachs & Co.
,
Intel Capital
,
New Enterprise Associates (NEA)
, and
WorldView Technology Partners
. Each of these firms has backed at least 5 separate companies. Intel has been the most active in this realm, having invested in 7 separate optical Ethernet or metro optical transport companies.
Despite the solid backing, however, the report indicates that optical Ethernet startups might be affected in several ways by the present economic downturn.
For one thing, service providers in this area are starting to find it much tougher to gain further funding rounds, since their enormous capital requirements make them higher risks than equipment or component providers.
Discussions with VCs and carriers also indicate there are too many equipment vendors in the sector. No fewer than three private companies are expected to remain standing by the time 10-Gbit/s Ethernet comes to the fore in a couple of years.
Valuations are also down sharply across all companies in the private sector, and optical Ethernet startups are no exception. As a result, most startups are valued just slightly above or below the total funding they have received. With no premium built into their valuations, the market for IPOs will be tough--it is most likely that these companies will need to be acquired to survive.
— Mary Jander, Senior Editor,
Light Reading
http://www.lightreading.com
Editor's Note:
Light Reading is not affiliated with Oracle Corporation.
UPCOMING LIVE EVENTS
June 6-8, 2023, Digital Symposium
June 21, 2023, Digital Symposium
December 6-7, 2023, New York City
All Upcoming Live Events
PARTNER PERSPECTIVES
- content from our sponsors