The latest report from Growthink Research says venture capital firms shelled out better than $4.9 billion in the third quarter of calendar 2002, and nearly 38 percent of that went to fund connectivity companies, including a sizeable chunk to optical networking startups.

And an unannounced $34.5 million has gone to an established player, DWDM vendor LuxN Inc., according to the Growthink report.

Hang on! If you've done a doubletake, so did we.[p> VP of marketing Paul Zalloua acknowledges Growthink's right and admits he's been hiding something for months now. "We've been waiting on another important sales event in order to make that announcement along with the funding," he says. "But I'm getting calls right and left. Perhaps we'll put out a separate release."

Little information is available yet on LuxN's round, or whether the "sales event" Zalloua cryptically refers to has anything to do with earlier news of a possible contract with SBC Communications Inc. (NYSE: SBC) (see Sources: LuxN Close to SBC Deal).

Still, it's about time for a new LuxN round. In April 2001, the company announced it had scored about $55 million to tide it over another year (see LuxN Finds More Funding).

It's not surprising it's taken so long. In results that echo other VC surveys (see VC Funding: Drip, Drip, Drip), Growthink says funding is down, and despite signs of strength, optical networking isn't expected to return as a strongly funded segment anytime soon.

But let's jump to the good news: Growthink's report says connectivity, a segment that includes networking, semiconductor, broadband, telecom, and wireless, received nearly $2 billion in VC monies. This happened despite a 20 percent sequential drop in overall U.S. VC funding, which the firm attributes to fewer high-ticket deals and a "weakened economy."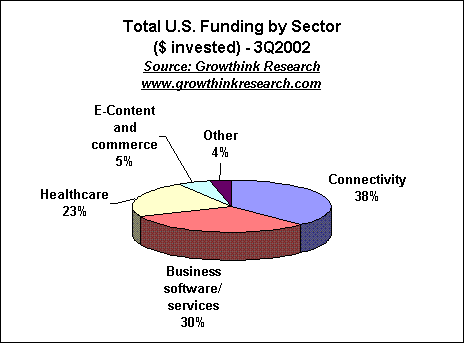 Within the connectivity segment, optical networking companies got about 26 percent of the pie, Growthink says. Indeed, three companies in the space, Hatteras Networks, Internet Photonics Inc., and LuxN, were among the top ten investments this quarter (see Khatod Ventures Into Software and Internet Photonics Pipes in $31M).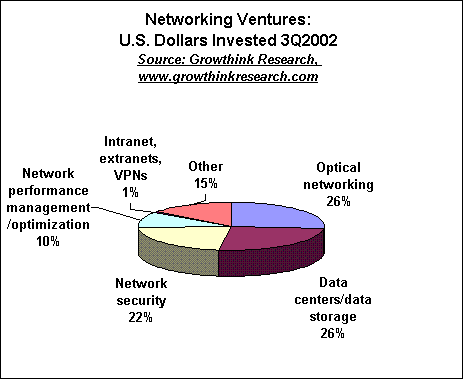 But times are clearly tough. The report states that "optical networking remained the leading segment with an average deal size of $12.8 million, but the number of optical deals declined for the third consecutive quarter." In all, 22 companies classed as optical networking startups were funded.

Last quarter, Growthink reported that 28 optical networking companies were funded stateside, with an average deal value of $15.7 million.

The overall investment outlook isn't rosy. According to Growthink, just one segment, wireless software, shows any signs of growth. Last quarter, the researcher says, 17 companies in that segment garnered $116.9 million in funding -- an average of about $6.9 million apiece. This quarter, 14 companies got $99.1 million, averaging about $7 million apiece.

All things considered, it looks as if LuxN's among the lucky few to get sizeable new funding. In fact, Growthink says only 15 percent of companies in the connectivity sector got any later-stage funding at all.

VCs themselves admit times are tight, although they don't claim familiarity or agreement with the Growthink figures. "Certainly, fewer companies are being funded," writes Greg Blonder, general partner at Morgenthaler, in an email today. "Not sure rounds are really smaller, but burn-rate definitely is. We want to make sure there is 24 months of funds available to see new portfolio companies through..."

"There aren't any new decisions," says Sanjay Subhedar, general partner at Storm Ventures. Instead, he says VCs are intent on keeping their best existing investments alive. What's more, next year will be worse: Subhedar expects total VC funding for 2003 to be down 25 percent from this year's final figure.

— Mary Jander, Senior Editor, Light Reading
www.lightreading.com