A handful of studies show a wee quarterly uptick in venture funding, and one report says telecom startups are benefitting.

The MoneyTree study, produced quarterly by PricewaterhouseCoopers, Thomson Venture Economics, and the National Venture Capital Association, says venture funding increased to $4.3 billion in the second quarter of 2003, versus $4 billion in the first quarter.

That extra $300 million may look paltry compared to the boom times, but it represents the first quarter-to-quarter growth in VC funding since 2001, the surveyors say. Still, while the growth appears to signal an anticipated uptick, it's too soon to call a trend (see Venture Uptick Coming?).

"[B]efore we declare a trend reversal we must first see a sustained opening of the IPO market and consecutive quarterly increases in corporate capital expenditures," says Mark Heesen, president of the National Venture Capital Association, in a prepared statement.

But MoneyTree gives cause for hope: Telecom companies ranked number three among industries taking the most VC money in the first half of 2003, the survey says -- following biotechnology and software. What's more, the $615 million that went to 70 telecom companies this quarter represented an increase of 21 percent over the first quarter.

Interestingly, enterprise networking companies aren't keeping pace: They showed a 7 percent reduction in funding, to $427 million.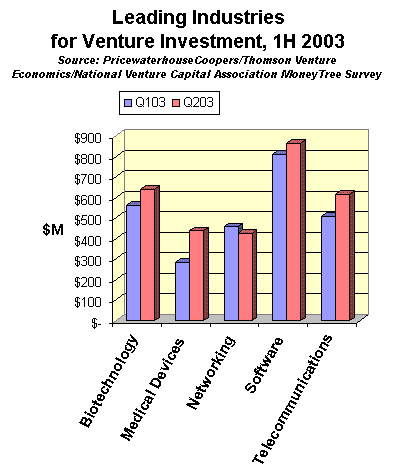 An indicator of growth is that more early-stage companies are getting funding, according to MoneyTree. In the second quarter 2003, investments in early-stage startups shot up 43 percent over the first quarter, to $956 million. This is the first "significant increase," MoneyTree says, since 1999.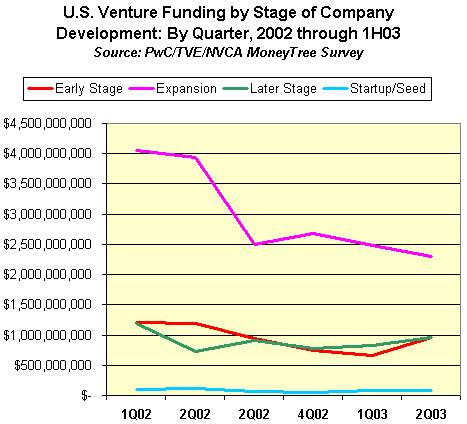 Another survey of 48 IT-oriented venture firms, conducted by search firm Venator Partners, says 86 percent of respondents "say they are deal hunting more actively than they were a year ago." And 69 percent of respondents say they'll be focusing on early-stage investments in the next year.

A third survey, from Cap Gemini Ernst & Young and VentureOne, says U.S. venture funding perked up during the second quarter 2003, for the first time since 2000.

Still, caution's the word: While Ernst & Young/VentureOne's survey says deals totaled $3.9 billion for the second quarter of 2003, up from $3.5 billion in the first quarter, it also shows that VC output of $7.5 billion for the the first half of this year isn't keeping pace with the $11.5 million raised during the first half of 2002. The number of VC rounds also has dwindled -- 866 for the first half of this year, compared to 1,157 for the first half of 2002.

The data also shows that communications companies offering a range of equipment and services are still a downer. While comprising roughly 17 percent of all funding so far this year, investment in networking gear, ISPs and other telecom providers, and even wireless gear and services, dropped from $743 million in the first quarter of this year to $564.5 million in the second quarter.

— Mary Jander, Senior Editor, Light Reading