12:45 PM -- Comcast Corp. (Nasdaq: CMCSA, CMCSK) has indicated that it will need 20 million digital terminal adapters (DTAs) to complete its "all-digital" transition, but already some (okay, a microscopic amount) of the inventory shipped out so far is starting to show up on eBay Inc. (Nasdaq: EBAY). (See Comcast's $1B Bandwidth Plan and Comcast Seeds Digital Shift With Free Boxes.)

A quick check shows a couple of DTAs up for bid, including one from "divasignatures," an eBay-er based in Kent, Wash., one of the markets where Comcast has trotted out "Project Cavalry."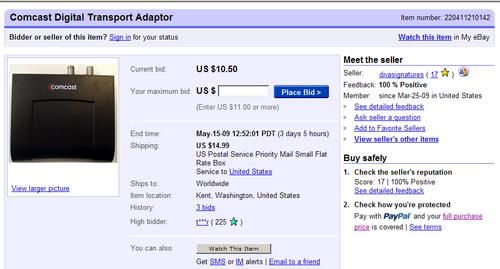 Comcast has indicated previously that DTAs -- simple, one-way devices that convert digital video signals so they can be viewed on analog TV sets -- cost about $30 each. At last check, one of the items up for bid is holding at $10.50, though the seller is charging $14.95 for shipping and handling. What a deal!

Even if a consumer in a Cavalry market were to go ahead and purchase the DTA via eBay, there's still a question about whether the box would even work, since, presumably, Comcast would still need to "hit" the box to authorize it for service, and it would take two shakes for the MSO to figure out that the DTA in question wasn't obtained through the "proper" channels. But we've asked Comcast to clarify that and we'll let you know how they respond.

Of course, the irony is that Comcast sees its all-digital strategy and the DTA as a way to cut down on service theft, since programming in the expanded basic tier will no longer be available in the easy-to-rob analog format. If it hasn't done so already, the MSO may want to calculate some expected DTA product theft into those calculations, as well.

Then again, this may all end up being less than a drop in the bucket, depending on how many DTAs customers try to sell via services like eBay or Craiglist, or at the local flea market. But we'll check back in the coming months as Project Cavalry rides into more U.S. markets.

— Jeff Baumgartner, Site Editor, Cable Digital News




---
Interested in learning more on this topic? Then come to Cable Next-Gen Video Strategies: Competing in the Three-Screen World, a one-day conference that will take a comprehensive look at the cable industry's attempts to generate revenues and fend off its rivals by deploying next-generation video technologies. To be staged in Atlanta, June 25, admission is free for attendees meeting our prequalification criteria. For more information, or to register, click here.


---