Before "user generated content" was known as user generated content, there was "Ugly George."

Ugly George (real name George Urban), as cable vets might recall, was a public access cult figure (and purveyor of soft-core porn) in the late 70s and early 80s. He would tote his hefty camera around New York City on his back and somehow coax and convince area women to conduct interviews in various states of undress.

George, whose "trademark" line with subjects was, "Let's flex into a dimly lit hallway," even scored interviews with John Lennon and Michael Jackson before disappearing from the cable waves for good in 1991, according to The New York Times, which reported on his "comeback" a couple of years ago.

Well, Ugly George, who proudly proclaims that the local Manhattan cable operator kicked him off the coax five times during his heyday, has since taken his act to the Internet… and even showed up last week at our Light Reading Live event to see how cable operators are delivering service bundles to businesses of all sizes. (See Cable Means Business and Slideshow: The Future of Cable Business Services .)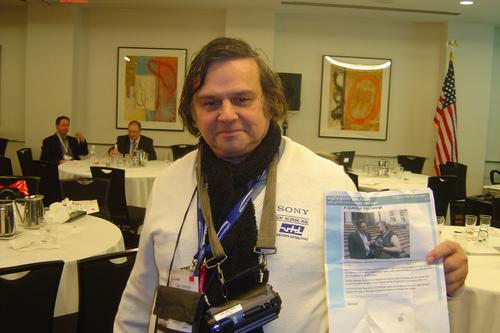 U.G., still a friendly sort, was regaling anyone who would listen about his latest exploits. Whenever anyone asks him where he is these days, he responds, "All over the world," citing his Web presence.

There are more than a few good reasons why we won't link you directly to him, but if you really have a desire to know more about him and his antics we'll assume you know how to operate a search engine. But please take heed of the following disclaimers/warnings:


The views of Ugly George do not reflect the views of Light Reading.
Don't proceed if you are easily offended.
If you do proceed, please ensure there are no children within a five-mile radius.
Again, don't say we didn't warn you.


— Handsome Jeff, Site Editor, Cable Digital News