Winning in the Gigaband Era Through 'ABC Curve' Optimization

11/18/2016

Comment (0)

At the 2016 Ultra-Broadband Forum (UBBF) held in Frankfurt, Germany, Ryan Ding, Chief Product & Solutions Officer, discussed how telecommunications operators can develop a Gigaband business strategy based on an "ABCDE" approach.
"ABC" refers to ARPU (Average Revenue Per User), Bandwidth, and Cost, which are all increasing but in a non-linear way with costs and bandwidth escalating faster than revenues. "D" stands for developers, who need open network platforms to introduce more diversified services, and "E" refers to the delivery of a seamless end-to-end user experience. This article explores how operators can improve their "ABC curve" to compete successfully in the changing digital landscape.
As users demand richer and faster access to broadband services, many operators are struggling to keep pace with increasing bandwidth demands and escalating costs against declining revenues. With increasing divergence between revenue and costs, operators are being forced to evaluate their access network strategy.
Huawei's Access Network solutions help operators optimize the "ABC curve" and achieve positive business growth by taking advantage of industry policies, reusing live-network resources, adopting innovative bandwidth acceleration technologies, and introducing new services including 4K video and smart homes.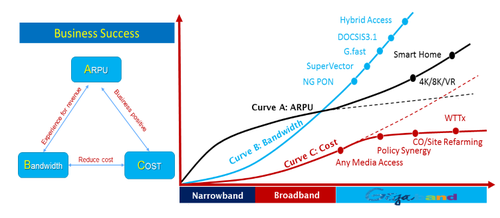 Curve A: Video and Smart Home Services Increase ARPU
Leading operators realize that offering video services is no longer a value-added service but now a basic service to capture customers and drive revenue growth, and some have already launched 4K video services. Many operators are maneuvering their businesses to play a key role in this area. For example, AT&T acquired Time Warner for USD85.4 billion. However, to deliver a high quality video experience, operators need to reduce latency and packet loss rate and ensure E2E bandwidth by optimizing their networks.
Traditional TV programs are broadcast over airwaves, which is suitable for programs with medium or low bandwidths. However, 4K video programs and the future 8K video and virtual reality (VR) programs require much higher bandwidth, and broadcasting them will consume huge spectrum resources. 4K video carried by broadband networks adopts video-on-demand (VoD), and multicast technology to reduce traffic when the same programs are ordered by different users. Therefore, the transmission efficiency of 4K videos is much higher than that provided by traditional broadcast. In addition, broadband video service is IP-based, which facilitates the expansion of new functions and services.
As pointed out by Eric Xu, rotating Huawei CEO, Huawei assists operators in achieving business success in six core ways. These include video business consulting; video content integration; integrated video platform; increase of STB chip investment and openness of middleware; E2E video network; and user, unified, ubiquitous - video mean opinion score (U-vMOS) system. Smart home is another blue ocean market for operators. With the home network becoming more prominent, an increasing number of devices and terminals are being deployed in homes. Because coverage and performance of home Wi-Fi signals directly affects the user experience, operators can capture new revenue opportunities by providing home Wi-Fi expansion and home network management services. In addition, operators can open their capabilities including channel rate acceleration, device interfaces, big data collection, virtual storage, and network security to third parties. This is achieved by deploying intelligent open gateways and combining an E2E network with a cloud platform. Service innovations from third-party developers can generate more intelligent services including home surveillance, smart home appliances, "Miss Home" videos, home health care, elder care, pet surveillance, and smart metering. These services represent new revenue opportunities for operators.
Curve B: Smooth Bandwidth Evolution through Network Innovation
There are many different technologies that enable broadband connectivity, and deliver different bandwidth capabilities with varying costs. For the common fiber to the home (FTTH) scenario in China, the Ethernet passive optical network (EPON) and gigabit-capable passive optical network (GPON) are used for services requiring a bandwidth of 100 Mbit/s. For gigabit cities and gigabit communities under construction, 10G EPON and 10G GPON technologies are required. Huawei's PON Combo solution helps operators achieve smooth evolution to 10G PON. Huawei realizes a 2.5 Gbit/s upstream rate (same as that of the asymmetric 10G GPON) for the 10G EPON, resolving the excessively low upstream bandwidth of the 10G EPON. In this way, operators can release uniform services and ensure a consistent user experience.
Many telecom operators outside China are still using copper lines and are gradually replacing central offices (COs) with outdoor cabinets. The Federal Communications Commission (FCC) in the U.S. redefines the broadband network and requires the minimum upstream rate be 25 Mbit/s. The asymmetric digital subscriber line (ADSL) technology adopted by traditional COs is being phased out and many operators have deployed fiber to the curb (FTTC) outdoor cabinets, which provide a bandwidth of 50–100 Mbit/s based on the VDSL2 and vectoring technologies. The latest SuperVector technology expands the upstream frequency to 35 MHz and optimizes the crosstalk cancellation capability, doubling or even tripling the rate increase over copper lines without site migration. G.fast technology expands the frequency to 106 MHz and adopts time division multiplexing (TDM), providing a 1 Gbit/s rate over copper lines at short distances. In actual deployment, some operators use large-capacity G.fast devices to reduce the network rollout cost. G.fast devices are installed in outdoor cabinets and provide a bandwidth of 300–500 Mbit/s for long-distance scenarios.
Cable operators can continue to use existing coaxial networks and upgrade the coaxial networks to DOCSIS 3.1 to support higher bandwidth. A coaxial network is resource-sharing, which means that the more users connected to a node, the lower average bandwidth per user. Therefore, optical nodes on coaxial networks need to be split for bandwidth acceleration. Huawei distributed converged cable access platform (D-CCAP) solution enables cable operators to split optical nodes and upgrade networks to DOCSIS 3.1 at the minimum network reconstruction cost.
A special access mode, fixed mobile convergence (FMC) access, is now popular in Europe. In this mode, operators provide copper line and LTE bundled bandwidths to attract subscribers. For example, an operator bundles 100 Mbit/s vectoring copper line bandwidth with 100 Mbit/s LTE bandwidth (for burst traffic). The actual traffic preferentially consumes the copper line bandwidth and will consume LTE bandwidth only after the copper line bandwidth is used up. In this way, wireless spectrum resources will not be overused.
Curve C: Cost is Key to Successful Broadband Network Rollout
Cost is a major factor that can both impact network expansion and broadband adoption, and therefore cost-cutting is a key priority for most operators. Minimizing broadband network rollout costs and shortening the return on investment (ROI) cycle are key areas for operators to focus on. Cost can be reduced in many ways, such as infrastructure reuse, supportive industry policies, release of equipment room space, site reuse, and microwave or wireless solution for remote regions.
Operators can lower the investment in and improve the efficiency of building ultra-broadband networks by reusing existing infrastructures such as copper lines, coaxial lines, fibers, ducts, and site resources. This is why different countries adopt different broadband rollout modes. Some Southeastern countries such as China, Japan, and South Korea mainly use fibers. Many developed European countries use copper lines. Operators in Latin America use coaxial networks to provide broadband services.
There are also diverse supporting industry policies. For example, according to the "dig once" policy issued by Federal Communications Commission (FCC) in the U.S., before a company starts a trenching project, it must invite other companies such as the telecom, water, electric power, gas to join the project deployment and share the project investment. In some other countries, an engineering company comprising engineering branches of telecom, electric power, gas, water supply, and road companies, plans and implements trenching projects in a centralized way to minimize engineering costs. The housing ministry of China requires new residential building developments to deploy fiber to the home (FTTH). Real estate companies must deploy fiber to buildings while operators only need to deploy the upstream optical fibers. In Britain's remote regions featuring long ROI cycles, the central government and local governments are jointly responsible for the investment and bidding of broadband projects. In some countries, broadband development is subsidized to encourage operators to build broadband networks.
Release of equipment room space and site reuse are cost reduction methods for conventional telecom operators. Their central equipment rooms, most of which are situated in prime locations, are deployed with space-consuming public switched telephone network (PSTN) voice switches and main distribution frames (MDFs). Space can be released through fiber transformation or relocation of devices closer to end users or to outdoor sites. In this way, operators can lease such space to offices or malls to increase operational revenue. Outdoor sites can be transformed into integrated access centers in the future. Besides accommodating broadband and voice devices, they can also function as wireless base stations, remote power distribution centers, and Wi-Fi hot spots.
Two microwave solutions are suitable for remote regions. In one solution, microwave, instead of fibers, is used for upstream transmission, and the 1G and 10G microwave ports can be used as the upstream ports of mini optical line terminals (OLTs) or digital subscriber line access multiplexers (DSLAMs) in outdoor cabinets. This solution can provide 1–10 Gbit/s bandwidths based on transmission distance. In the other solution, P2MP microwave is used. Microwave signals reach the receivers on subscribers' rooftops, and the signals are then converted into Ethernet or Wi-Fi signals by the gateway. A wireless solution is also suitable for remote regions. The wireless to the x (WTTx) gateways can receive LTE signals and then convert the signals into Ethernet or Wi-Fi signals for fixed broadband access.
Summary
As telecom operators are faced with shrinking revenues and profitability, they are looking at fundamental changes to their business models to compete successfully moving forward. With users demanding richer services, many leading operators are shifting towards offering digital services such as 4K video and smart homes. While network quality delivered through sufficient bandwidth remains a primary goal to deliver a seamless end user experience, operators need to address the accelerating divergence between revenue and costs.
Huawei's access network enables operators to optimize the ABC curve by taking advantage of industry policies, reusing network resources, minimizing network rollout costs, increasing bandwidth and service revenues, to offer customers faster broadband access and digital services, while justifying ROI.

(0) |