Huawei Access Technologies: Enabling Fixed Network Operators to Monetize Existing Assets Through Refarming

3/28/2017

Comment (0)

After years of construction, fixed network operators have accumulated an extensive, diverse and inconsistent communication network infrastructure. These operators are fixed-assets loaded that comprise the bulk of their capital base and they continue to use the asset-heavy operating model. On the other hand, Internet and value-added service providers adopt the asset-light model which supports flexible operations, and enables them to be more innovative. As a result, they are aggressively encroaching on the market opportunities of fixed network operators, and negatively impacting both their revenue and profits.
Amidst this fierce competition, fixed network operators are looking at ways to transform their heavy assets into nimbler value-added resources for providing new innovative services to meet market demands of fast and flexible enablement. Huawei's expertise in global fixed network modernization solutions is allowing fixed network operators to take a new look at asset management by rejuvenating asset potential, implementing a smooth evolution, protecting existing investments, providing users with innovative services quicker, and increasing asset profits.
Asset Refarming: Increasing Asset Profits Through Technical and Commercial Innovations
Refarming infrastructure (such as equipment rooms, outdoor sites, copper lines, and fiber channels) enables fixed network operators to maximize value from their assets by building ultra-broadband (UBB) networks economically and efficiently all the while protecting their existing fixed assets investments.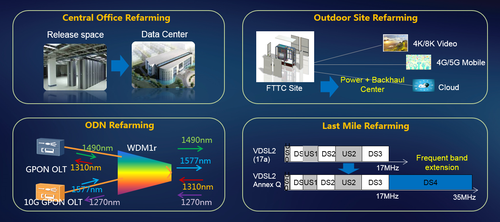 In the typical telecommunication central office (CO), public switched telephone network (PSTN) switches coexist with large-capacity digital subscriber line access multiplexers (DSLAMs) and main distribution frame (MDFs), and they occupy large spaces in typically city-central areas that are not cost efficient due to high rents. By implementing fiber replacement or migrating devices and MDFs to outdoor sites, operators can reduce individual CO costs but also reduce the number of COs that will lower operating expenses (OPEXs); they can divest unused COs by selling them, using them as offices, or even use them as service experience halls to generate new revenue. Another option is to ride the transition to information and communications technology (ICT), and use the COs as data centers to deploy digital networks economically and efficiently, and enhance profitability in the digital era.
More recently, fixed networks operators have continued to build a myriad of outdoor sites to meet bandwidth growth requirements, which typically requires complex government approvals followed by further costs such as power supply, engineering as well as time. Moving forward, operators can make good use of these existing outdoor sites by turning them into integrated access centers: in addition to being configured with broadband and voice devices, these sites can also serve as remote power supply (RPS) centers, Wi-Fi hotspots, and the backhaul centers of wireless base stations for multi-service accesses. By deploying Huawei's flexible outdoor sites, fixed network operators can upgrade and protect most site investments, all the while rapidly and flexibly meeting the demands of high bandwidth and multiple services.
Fiber channels, regardless of how they are laid (mounted on poles or underground) and irrespective of quantity represent a heavy capital investment. Optical distribution networks (ODNs) enable the coexistence of GPON, 10G GPON, and 40G PON which support different wavelengths. Under Huawei's PON combo solution, smooth evolution from GPON to 10G GPON can be achieved without independent WDM1r multiplexers. In addition, XGS-PON solution, to meet the requirements of big video and cloud era, extends upstream bandwidths. Huawei's MA5800 devices (distributed OLTs) reuse the ODNs, and support future-proofed PON network evolution. Because of these, operators can build ODNs once, and achieve upgrades smoothly for higher bandwidths.
Fixed network operators have routed drop copper lines to user homes during the PSTN and DSLAM eras. These lines may be the last mile of network access, but they are the first mile that truly impacts user experience. Through continuous innovations in the field of copper lines, Huawei uses a combination of technologies such as the spectrum expansion, the time division duplexing (TDD), and the crosstalk cancellation technologies to upgrade copper lines into providing UBB access. Huawei's SuperVector technology extends the downstream frequency band to 35 MHz, and its crosstalk cancellation technology accelerates rates 2–3 times using copper lines at original outdoor sites. In addition, the G.fast technology further extends the spectrum to 106 MHz or even 212 MHz, and supports an upstream and downstream rate of 1 Gb/s at short distances in the TDD mode. These technologies are potential options for fixed network operators looking to upgrade the potential of their copper infrastructure to achieve UBB access economically and efficiently.
Asset Refarming: Bringing First Mover Advantage for Inventory User Operation and New Market Exploration
One of the key competitive advantages of fixed network operators is their extensive user base accumulated over many years of operation. However, in the modern broadband era, Internet service providers (ISPs), over-the-top (OTT) service providers, and other new operators, have been eating away at this key asset by offering more innovative services and mainly UBB access. Fixed network operators need to preempt any further user base encroachment by deploying smooth network upgrades and providing new services for all target markets: individual and home services, and from voice services to home entertainment.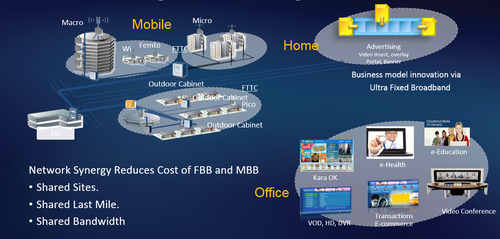 Using Huawei's popular combo solution, operators can provide users with their expected voice quality calls smoothly upgraded with broadband services by modulating broadband signals on dropped copper lines, therefore upselling their existing user base into more and new services and improving the monetization of their network. As SuperVector and G.fast CO devices are compatible with legacy DSL terminals, the transformation process of the copper lines is smooth and this enables network upgrades completely transparent to the user except for a heightened user experience. Moreover, these devices support future UBB access technologies instrumental in user retention.
Based on existing PON coverage, fixed network operators can reap the benefits from innovative services by deploying smart and open gateways for current home users, combining end-to-end network and cloud platforms to open capabilities (such as channel acceleration, device interface, big data statistics, virtual storage, and network security) to third parties, and supporting innovative and more intelligent services (home security, home healthcare, and smart meter reading). In addition, fixed network operators can also reach into new markets segments by enabling the existing PONs to provide integrated service access for governments and enterprises. Huawei's AgilePOL solution, allows fixed network operators to expand the service portfolio from pure home voice and broadband to new services such as security surveillance over enterprise campuses, wireless access, property management, and enterprise offices.
Through innovations in technology, business operations, and network resource sharing, asset refarming can now achieve network optimization and evolution, to meet today's and tomorrow's service requirements. It not only increases asset profits of fixed network operators, but also allows them to regain the first mover advantage by offering new services and entering new markets. Ultimately, asset refarming enables fixed network operators to effect true asset optimization and unlock greater asset returns and profitability.

(0) |