Tuned Out
2:20 PM -- The
Federal Communications Commission (FCC)
has voted in favor of opening an inquiry that could produce a new breed of network-agnostic "gateway" adapters and started a new rulemaking procedure that aims to "fix" the current set of
CableCARD
rules for cable-ready retail TVs and set-top boxes. (See
FCC Floats 'Simple' Gateway, CableCARD Rules
.)
We'll have many more details on both of those items posthaste.
But many of us who tuned in via the FCC's supposedly new and improved Website this morning to see a live feed of the proceedings soon discovered that the Commission may want to tweak its broadband plan to include some upgrades targeted to its internal infrastructure.
Granted, the FCC "reboot" site still carries the beta label, but it's painfully clear that this is a work in progress. Today's meeting video feed started off choppy and proceeded to deteriorate. Then, just as the Commission was introducing the item I really cared about (the gateway notice of inquiry and the new CableCARD rules proposal), the feed just blanked out, leaving me (and
many others
, I soon discovered) left gazing at this not-so-helpful page: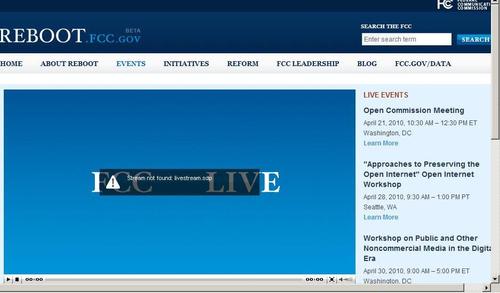 The feed eventually returned, but not until after details of those items were introduced, and FCC Commissioner Michael J. Copps was commenting on a bunch of important stuff many of us didn't get to see or hear.
And that whole frustrating exercise simply illustrated a strange irony. The FCC has drafted a National Broadband Plan and can't say enough good things about the benefits of broadband video, yet had trouble keeping its own Web TV offering from going on the blink.
— Jeff Baumgartner, Site Editor,
Light Reading Cable