Tropic Networks Inc. announced this morning that it's raised $60 million in a second round of funding, bringing its total funding to date to about $70 million (see Tropic Gets $10 Million First Round). The startup says it will use the money to continue the planned rollout of its product, a platform that combines optical switching with IP and Ethernet connectivity for metropolitan area networks (MANs).

Tropic also will use the money to open its second office this week, in Boston. Headed up by VP of marketing Dan Poranski, the office will be the start of planned worldwide expansion.

The hefty round is a vote of confidence in the direction Tropic is taking, sources say. Tropic says it reflects what carriers are asking for: "This financing helps solidify the message we're getting from large customers," says CEO Kevin Rankin. He says these service providers want a platform that helps them make the transition from traditional Sonet- and TDM-based networks to next-generation MANs -- and make money while they're doing it.

The metro optical Ethernet market is just emerging and is still young (see Optical Taxonomy and Metro Optical Ethernet for some help). Nonetheless, a cadre of well-funded vendors are active in the race to join IP and Ethernet over optical MANs.

Some companies are taking the "optical packet node" approach, combining IP and optical switching in a single box, as is the case with Atoga Systems and Village Networks Inc.. Another group of vendors base their gear on high-speed Ethernet, scaled to fit the MAN market -- typified by the likes of Atrica Inc. and World Wide Packets Inc..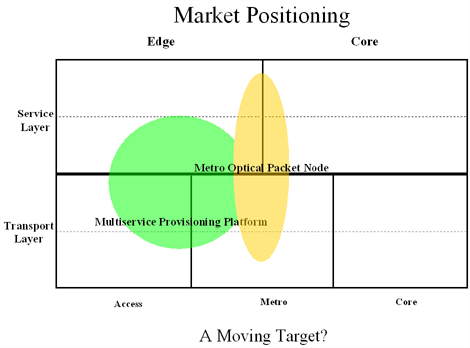 Funding in this space has been generous (see Chiaro Gets $100M for "Optical Router" and Caspian Prepares for an IPO), but expectations are high. Tropic says that Pioneer Consulting estimates that the market for metro optical networking solutions will grow to $14.5 billion by 2004.

The company, based in Kanata, Ontario, had 20 employees when it got its first round in July, and it now has 150 employees. The product is scheduled to roll out later this year, Tropic says.

The funding Tropic announced today is being provided by a range of VCs, including Altamira, Celtic House International, Crescendo Ventures, Goldman Sachs, Kodiak Venture Partners, and Raza Foundries. Celtic House and Kodiak Ventures Partners also provided Tropic's first-round funding.

-- Mary Jander, senior editor, Light Reading http://www.lightreading.com