10:30 AM -- The itv news Website reports on yet another cultural triumph for the meddling busy-body patrol:


Smoking scenes in vintage cartoon episodes of Tom and Jerry, The Flintstones and Scooby-Doo are being reworked after a viewer complained they were not suitable for children.

Cartoon editors are painstakingly working through more than 1,500 episodes of the cartoons painting out images of characters smoking frame by frame.

Turner Broadcasting, which owns the rights to the cartoons, claims the move is a voluntary step.

But it comes after a viewer of the Boomerang Channel complained to media watchdog Ofcom, saying footage of Tom and Jerry smoking was not suitable for children.
Tom attacking Jerry with a cleaver is, of course, still peachy-dandy. At least, I hope so.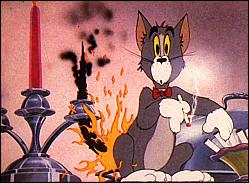 — Larry, Attack Monkey, Light Reading