TiVo Goes South (of the Border)
Cablevision S.A. de C.V.
, the largest cable MSO in Mexico, has launched a Spanish-language version of the
TiVo Inc.
(Nasdaq: TIVO) stand-alone digital video recorder (DVR) and service.
Cablevision said it is marketing TiVo to digital cable subs throughout Mexico City, offering traditional TiVo apps such as SeasonPass and WishList searches.
TiVo did not outline the service fees for the offering in the press release, but the Cablevision Website reveals that the MSO is charging a one-time fee of 499 pesos (US $45.04), and a monthly service/subscription fee of 149 pesos (US $13.45).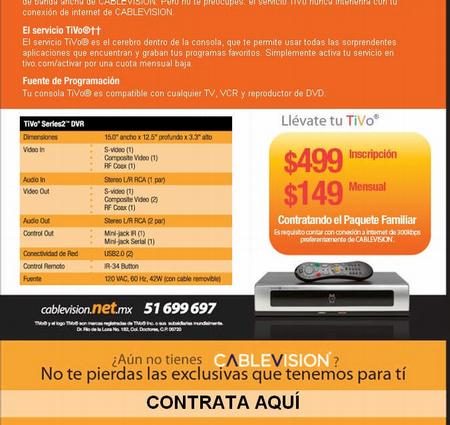 The operator, which is majority owned by Grupo Televisa and passes more than 1.5 million homes in Mexico City, said it will promote the TiVo offering via a range of cross-channel spots, as well as print, online, radio, and outdoor ads. Cablevision also expects to enlist some "celebrity spokespeople" to push the service, but did not name them.
Cablevision CEO Jean-Paul Broc said in a statement that the MSO is "confident that the TiVo brand will not only increase customer loyalty but serve as a driver of new cable subscribers."
Cablevision initially will market a Spanish version of TiVo's stand-alone, standard-definition Series 2 DVR, according to a TiVo spokesman. TiVo has yet to announce whether the Mexican MSO will offer any of the vendor's hi-def boxes, which include the top-of-the-line Series 3, as well as a price-reduced, CableCARD-capable model introduced in July and launched at retail on August 22. (See
TiVo Courts Cable With New HD-DVR
.)
Cablevision already markets a generic HD-DVR on the
Motorola Inc.
(NYSE: MOT) digital set-top platform.
The launch marks TiVo's latest direct hook up with a cable operator, and its first in Mexico. TiVo also has cable deals with
Comcast Corp.
(Nasdaq: CMCSA, CMCSK) and
Cox Communications Inc.
Seven Network, a major broadcaster in Australia, is also developing a DVR system powered by TiVo's software and application suite.
Rather than marketing the stand-alone TiVo box, Comcast and Cox are both integrating TiVo's software into the traditional digital set-top environment.
Comcast, which is preparing to roll out TiVo on Motorola set-tops in the MSO's New England Division, has agreed to supply "significant" funding to port TiVo to the
Scientific Atlanta
set-top environment. (See
Comcast Funds TiVo App Expansion
.)
During TiVo's second quarter conference call late last month, company President and CEO Tom Rogers said a deployment with Cox likely would lag six months behind the initial Comcast deployment.
— Jeff Baumgartner, Site Editor,
Cable Digital News
PARTNER PERSPECTIVES
- content from our sponsors