LAS VEGAS -- 2009 International CES -- Without much fanfare, Thomson S.A. (NYSE: TMS; Euronext Paris: 18453) has developed its first set-top box based on the tru2way platform, Cable Digital News has learned.

But the French company, mirroring a trend seen with other vendors that are just getting their feet wet with the technology, has no plans to hawk that box directly to consumers. Instead, it hopes to gather traction by selling them directly to cable operators. (See Funai Makes Tru2way Play .)

Thomson has not announced any tru2way set-top deals, but Comcast Corp. (Nasdaq: CMCSA, CMCSK) happens to already be a buyer of Thomson-made Digital Terminal Adapters (DTAs) and Docsis-certified embedded multimedia terminal adapters (eMTAs). (See Thomson Confirms Comcast DTA Order and Thomson Wins eMTA Deal.)

"MSOs want retail eventually, but that's not what's getting the momentum early on," says Pascal Portelli, Thomson's vice president of cable broadband and connected devices.

Tru2way is a uniform, CableLabs -specified platform that promises to usher in a competitive market for retail digital set-tops and televisions.

Here at CES, Thomson is showing off the DCI707, a high-definition box with a Docsis 2.0 modem, dual tuners, MPEG-2 and MPEG-4 support, and an option for Multimedia over Coax Alliance (MoCA) , a high-speed network platform that's becoming key to some multi-room DVR implementations.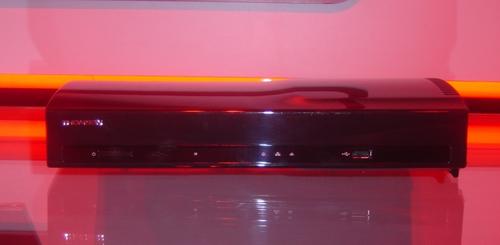 That box uses an OpenCable Application Platform (OCAP) stack (the middleware component of tru2way) from enableTV Inc. -- a startup that left the nest of Vidiom Systems last fall. (See Vidiom Founders Launch iTV Startup .) Here in Las Vegas, the box is also running enableTV's "Dashboard" application, which pipes in a range of "widgets" (personalized sports, stock, and weather info, for example) via a banner at the bottom of the TV screen.

Thomson has not set a hard introduction date for the DCI707, but it could head out later this year if the company is successful in obtaining certification from CableLabs, according to Thomas Newberry, director of Thomson's North American cable product division.

Thomson is also working on a tru2way box that includes a DVR, but that model, which would require a third tuner and, of course, a hard drive, probably won't be ready to go until sometime in 2010, Newberry estimates.

Docsis 3.0 update
Thomson is the first modem vendor to acknowledge that it's using a new Broadcom Corp. (Nasdaq: BRCM) chipset that's capable of bonding eight downstream channels and four upstream channels. CableLabs specs call for Docsis 3.0 modems to bond a minimum of four channels in each direction.

Thomson has two devices with that chip on board: a standalone modem called the DCM475, and an eMTA dubbed the DHG575. Thomson is submitting both models to CableLabs for testing when Certification Wave 65 kicks off in mid-January.

— Jeff Baumgartner, Site Editor, Cable Digital News