2:00 PM -- CBC News reports on a monkey with issues:


Zoo Keepers at the Qinling Wild Animal Zoo in Xi'An in China are encouraging a 26-year-old chimpanzee called Ai Ai to quit smoking.

Ai Ai, which means "love love" in Mandarin, has been smoking for 15 years. She started by picking up tourists' cigarette butts.

Her mate died recently and Ai Ai is smoking more. She's up to seven or eight cigarettes a day now and her keepers are worried about her health.

The zoo is trying to feed her milk instead of cigarettes to get rid of her addiction.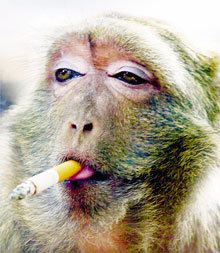 — Larry, Attack Monkey, Light Reading