Market forecasting is not an exact science. And in some cases it doesn't seem scientific at all.

Take predictions for the free-space optics (FSO) market as an example. From September of 2001 to March 2002, five-year projections for FSO from four leading market research firms differed by billions of dollars, with some predicting the market would hit multiple billions and others pegging it at only hundreds of millions. Why such a drastic difference in predictions?

One explanation is that the entire telecommunications sector has changed. Analysts were counting on heavy sales in the carrier market to drive growth in free-space optics. But now, as many competitive carriers -- the earliest adopters of this technology -- go out of business, and even some incumbents like WorldCom Inc. (Nasdaq: WCOME), Sprint Corp. (NYSE: FON), and Qwest Communications International Inc. (NYSE: Q) hit financial troubles, the prospect of selling $2 billion to $3 billion worth of gear in a single year is increasingly unlikely.

"This kind of over-hyping has been going on for years," says Tony Carmona, senior analyst with IGI Group Inc. His firm had one of the highest forecasts for FSO. "As an analyst, I take some of the blame for this. But sometimes we all get caught up in what looks like really cool technology. But I've come to realize that a lot of this stuff is baloney. Carriers just aren't buying it."

Free-space optics is a wireless technology that uses lasers to connect buildings to fiber at high data rates. In 2001, 65 percent of its sales were in the enterprise market. But analysts and vendors say the real market is with carriers, which today only make up about 34 percent of sales, according to research from Frost & Sullivan.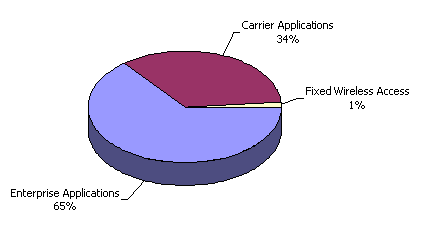 The big drivers in the carrier market are likely to be things like backhaul for cellular traffic and fiber back-up for last-mile connections. While the technology has many positive attributes, like a low entry cost and easy installation, it also has several negatives, like distance limitations and a vulnerability to weather conditions, especially fog and low cloud coverage, which can interrupt transmission.

Despite these issues, many analysts have been bullish on the technology. The driving force behind their high market forecasts was that carriers were going to adopt the technology in droves. Many were publishing reports advocating these high figures even as the entire carrier market was on the brink of collapse.

In a report on broadband access technologies published by Merrill Lynch & Co. Inc. in May 2001, analysts predicted sales would grow from $100 million in 2000 to $2 billion in 2005. In September 2001, The Strategis Group predicted sales would reach $2 billion in 2006, also using a base of $100 million in 2000 as a starting point. In an August 2001 report, the IGI Group had one of the most bullish predictions. Its analysts predicted sales would reach $3.2 billion by 2005 and $3.8 billion in 2006. This firm also said sales were increasing at this level from a $100 million base in 2000.

Frost & Sullivan reported much more conservative figures in 2001. Its analysts predicted sales would grow from $100 million in 2000 to $395 million in 2005. In March 2002, it revised its forecast, predicting revenues would grow from a base of $71 million in 2001 to $215 million by 2005.

Two things stick out from the Frost & Sullivan reports. One is the fact that revenues dropped $29 million from 2000 to 2001. The other is that this firm has consistently been more conservative than other research outfits.

First, the 2000-2001 discrepancy. According to Frost & Sullivan analyst Wai Sing Lee, one FSO company reported a $20 million decline in revenue from 2000 to 2001. He speculates that the company included sales of other products in figures it presented to research houses for 2000. In 2001, the company did not include those sales. Lee would not say which vendor misstated its revenues.

As for being more conservative, Lee says he can't see how it would be possible for a market starting at such a low base to increase that dramatically within four or five years.

"There is no way that that the market could grow that quickly," says Lee. "We'd have to see some major, major deployments from carriers to reach those forecasts."

According to Lee's calculations, for the market to grow at this rate, carriers and enterprises would have to deploy about 86,000 new FSO links in 2005, which means equipment companies would be selling nearly 180,000 units, since the point-to-point products include both laser transmitters and receivers. Compare this figure to the 2,500 links or 5,000 transmitters and receivers installed and sold in 2001. What's more, prices in wireless are falling drastically, which means that volumes would have to increase even more to be able to hit a $2 billion or $3 billion target in 2005.

"I just don't see the demand for numbers like this, even with carriers becoming a larger percentage of the market," says Lee. "Besides, most of these companies are small. I also don't see how they could manufacture that much product."

Carmona has his own explanation: "Market projections are based on fact, but they are also based on some feeling and hype. Our idea at the time was that 3G wireless and the buildout of metro networks would provide significant opportunity. But that isn't happening. The grim reality is our projections were high." The IGI Group hasn't done a follow-up study to the one published in August 2001, and Carmona says that none is planned. But he admits that predictions for the future would likely be reduced greatly.

Tal Liani, the analyst from Merrill Lynch who conducted the research in 2001, did not return calls by press time. Peter Jarich, the analyst from the Strategis Group, was unable to be reached for comment.

— Marguerite Reardon, Senior Editor, Light Reading
http://www.lightreading.com