Tower Companies Brace for an Edge Computing Bonanza

Comment (1)
For all the uncertainty in some aspects of edge computing, there is general agreement that cell towers will be the logical location for edge computing to happen first, which is why it's not surprising that major players such as Crown Castle and Vertical Bridge are investing in data center technology and exploring this next new frontier. They aren't doing it in the same way, however, and their respective efforts cast some light on differing business models. (See New Effort Tries to Curb Edge Chaos.)
Of course, neither company identifies itself as a "tower" operator, considering that is one type of wireless infrastructure and they each provide a broader scope including rooftops, ground locations, small cells and, in Crown Castle International Corp. (NYSE: CCI)'s case, 60,000 route miles of high-capacity fiber-optic cable to connect it all. For both companies, edge computing is just the next step in creating shared infrastructure that will support their next set of services and revenues.
That's true for the communications infrastructure industry in general, but what remains unclear is the business model. Joe Reele, vice president, Datacenter Solution Architects at Schneider Electric , which sells data center technology to all players, says two approaches are emerging and it's unclear which is better. Some of these companies, which are sometimes viewed as real estate operators, may get into the data center business themselves, while others will choose to lease space to those with data center expertise. (See The Great Edge Computing Land Grab.)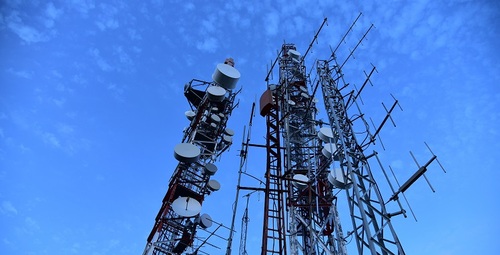 "You can see that there are two very different business models that are being toyed with and to suggest that one is better than the other is a bit premature at the moment," Reele comments. "Certainly one model might be a faster deployment model, that is the 'I'll just lease out the space at the tower' approach, relying on someone in the industry who knows the clients. But it may not be as profitable. This is why it is the year of the pilot."
Unique assets
For Crown Castle, which has invested in edge compute infrastructure vendor Vapor IO , the approach for now will be to lease space and power at its towers and elsewhere for edge computing to happen, and also sell network connections to those sites, says Phil Olivero, vice president of technology.
"We've got a really unique set of assets in that shared communications infrastructure [of] small cells and fiber," he says in an interview. "That allows us to address exciting new communications opportunities like edge computing. We have 40,000 towers that are located at the edge of the wireless network, where it connects to the wired network, and we have space at the base of those towers that serve as a perfect place to put edge data centers. What is unique for us is that we also have 60,000 route miles of fiber that can connect edge data centers back to the core data centers or other destinations they need to connect to. Our focus is on being an enabler of this technology, but it is still very early innings on this opportunity."
---
Zero in on the most attractive 5G NR deployment strategies, and take a look ahead to later technology developments and service innovations. Join us for the Deployment Strategies for 5G NR breakfast workshop in LA at MWCA on September 12. Register now to learn from and network with industry experts – communications service providers get in free!
---
Vertical Bridge comes at this space from a slightly different direction, as an operator of wireless and broadcast infrastructure. It is partnering with DataBank Ltd., which provides data center, cloud and interconnectivity services, to build micro data centers on its tower/broadcast sites and in the 6,000 buildings to which it has exclusive rights, and will be selling that to carriers, content owners and more, says Bernard Borghei, executive vice president of operations and co-founder of Vertical Bridge.
The two companies share a parent company in Digital Bridge Holdings , whose family of companies also includes ExteNet Systems Inc. , owner and operator of neutral host facilities including small cells and DAS, and core data center company Vantage as part of its portfolio.
"We are the owners of the largest portfolio of broadcast towers in the country and the broadcast sites come with a lot of land," he tells Light Reading. "All of our sites have their LTE deployment and through the radio stations that operate on them, we have fiber. There is power available; there is land, there is fiber, there is water for a cooling system. So we started talking to DataBank and decided we would be able to use our sites and deploy these modular, scalable edge micro data centers right at the edge of the network. We would contribute our assets and our relationship with the carriers, and DataBank would bring in their engineering and operations and maintenance expertise in operating them."
Next page: The 5G play
PARTNER PERSPECTIVES
- content from our sponsors
GUEST PERSPECTIVES
- curated contributions