MWC22 – Articulated legs tucked beneath it, Verizon's robot dog was napping on Tuesday of Mobile World Congress (MWC), as if the exertions of the previous day had been too much. Staff seem to view it almost like a flesh-and-blood pet. To many others, it will look more like a killing machine from a science-fiction series.
Either way, it is undoubtedly an impressive bit of engineering. Wirelessly leashed to a low-latency 5G network, it can be used for security checks, keeping people out of potential danger zones, said Rima Qureshi, Verizon's chief strategy officer. So far, it is the standout example of Verizon's attempts at 5G-driven metamorphosis – from a company that sells gigabytes on smartphones to one pitching advanced "edge" applications to businesses.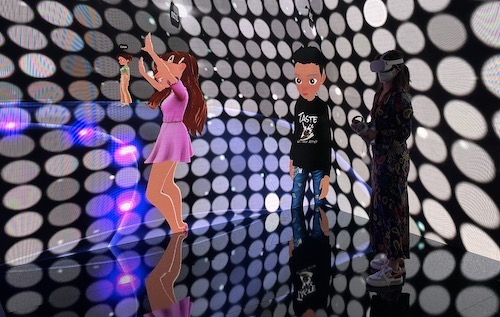 This 5G rollout by Verizon and others, gobbling up billions of dollars in spectrum fees and capital expenditure, is suddenly under intense scrutiny. In a blog published on the eve of MWC, Facebook Connectivity Vice President Dan Rabinovitsj questioned the suitability of today's 5G networks for the metaverse, a sort of extended-reality emporium of games, holographic communications and strange avatars.
"Making the metaverse a reality will require significant advancements in network latency, symmetrical bandwidth and overall speed of networks," he wrote, days before the word metaverse was emblazoned across the stands and signage of various MWC exhibitors.
Meta backlash
The suggestion that not enough investment has gone into 5G to cope with the metaverse may horrify the telco world. Two or three years into 5G rollout, the technology has consumed capital expenditures without delivering a sales boom for operators. Overall debts at Verizon soared from $93.1 billion in 2013 to nearly $151 billion last year. Yet annual sales over that period have risen just 11%, to $133.6 billion last year. Its share price is up roughly the same.
The real beneficiaries of high-speed mobile networks include the company now grumbling about their inadequacy for its future needs. Despite its recent, high-profile problems, Facebook (or Meta, as it today calls itself) trades at a 285% premium to its share price at the end of 2013. Back then, it made less than $8 billion in annual revenues. Last year, the figure was about $118 billion.
Among European operators that have fared even worse than Verizon, talk of an investment splurge to pay for the metaverse is meeting with a backlash. "If we start to deploy many sites, it will have a cost and we need to find a way to monetize that," said Laurent Leboucher, the group chief technology officer of France's Orange. "It cannot just be the operators bearing the cost for free for metaverse providers."
The metaverse, then, has re-energized the debate about net neutrality, the somewhat ill-defined principle that operators should not be allowed to demand payment from Internet firms. Leboucher's remarks come days after the bosses of Deutsche Telekom, Orange, Telefónica and Vodafone called on European regulators to overhaul the rules, arguing the "burden" of network investment "must be shared in a more proportionate way."
As it plans for investment in "standalone" 5G, the latest iteration of the technology, Orange today reckons fewer than ten data centers would be needed in a country the size of France to support low-latency applications. That relatively modest investment would shorten the physical distance a signal must travel and cut the signaling delays affecting a service. But if metaverse applications appear that need latency of just a few milliseconds, ten might not be enough.
"For it to really work with wearables, VR headsets that you can wear for a long period of time, you've got to make it as real as possible and that does depend on latency," said Howard Watson, the chief technology officer of BT. Technical experts at the UK operator think an edge-computing rollout comprising "tens" of data centers will initially suffice. But they have talked about using up to 1,000 facilities in future, depending on what applications emerge.
One commercial option is to attempt a reinvention of the telco business model and charge for something besides big bundles of gigabytes. It is already under consideration at BT. "Dedicated gaming – I can see people paying for that because consumers talk about this when they are in focus groups with us," said Marc Allera, CEO of BT Consumer. His expectation is that the metaverse will place "huge demands" on network providers.
Edgy moves
But technology executives bristle at the idea that 5G itself might not be up to the future challenge. The VR applications that Watson envisages could probably be delivered with 15 to 20 milliseconds of latency, he told Light Reading. Verizon's Qureshi is in broad agreement. "You need ubiquitous coverage and you need that ultra-low latency and you need the edge compute," she said. "The locations exist today and are open and available."
So far, the requirements are mainly for latency of below 50 milliseconds and Verizon can manage 30, according to Qureshi. Through tie-ups with public cloud providers, it currently has a footprint of about 17 edge data centers in the US, but trials are being considered at sites used for its cloud RAN (radio access network).
Latency, though, is only one possible issue. Despite the benefits that have come with the rollout of higher-frequency spectrum, Facebook's Rabinovitsj calls for "revolutionary improvements in network throughput." His reference to the need for "symmetrical bandwidth" points to unhappiness about the relatively poor uplink performance of 5G compared with fixed-line networks. In a metaverse, that could be a problem.
AT&T and Nokia are trying to fix it through early work on "distributed MIMO" – a system that could figure in a future 6G standard, according to Gordon Mansfield, AT&T's vice president of converged access and device technology. The precise aim is to boost uplink performance, he said. "If I can get to the point where the device can talk to many radios at the same time, then that gives a distinct benefit on the uplink, and this is where we are focused now on proving some of those capabilities."
Yet none of this sounds cheap, and the lack of obvious new revenue streams explains why operators worldwide are so focused on automating networks and cutting expenses. Many of them reading Rabinovitsj's blog about the need for better networks must be hoping the metaverse turns out to be the next big fad.
Related posts:
— Iain Morris, International Editor, Light Reading