EdgeConneX in action
One obvious player in this segment is EdgeConneX Inc. , which has been building edge data centers for some time and continued to look for sites at which to build smaller data centers, initially for content, serving both Internet giants and cable operators, primarily. In an interview earlier this year, Phill Lawson-Shanks, chief innovation officer for EdgeConneX, said that his company absolutely would leverage its heritage in building data centers to serve this smaller edge, even as it also scales up some of its original "edge" locations to be much larger campuses.
"We have access rights to thousands of buildings in North America and we have the innate knowledge and experience of how to deal with the multiple municipalities to penetrate buildings, get rights of way, etc.," he commented.
That expertise includes building its electrical rooms in containers that can easily be dropped into a site, turned up and then scaled up, to reduce the build cycle time to days, Lawson-Shanks said. EdgeConneX also has its own Edge OS, built to monitor a lights-out data center and designed to scale up to a campus build or down to "manage something the size of a mini-fridge," he added. "So it can sit on a cell tower, on top of a building or inside a building."
These distributed sites "are the perfect location for up-to-the-minute content for search engines, content providers to put microservices down there in caches," Lawson-Shanks noted, and can also be the aggregation points for the many more 5G antennas that will be required.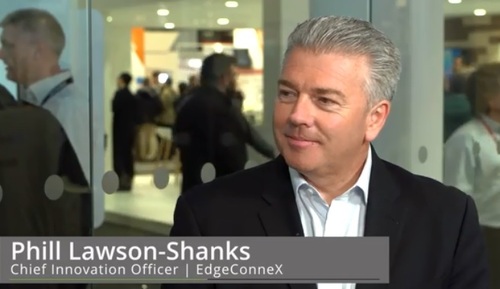 "The challenge that a lot of the people professing to be micro edge providers is that, to get an enclosure and put it on a piece of land is pretty easy," he said. "The difficulty is maintaining the integrity of that enclosure -- the security, the environmentals. That is the hardest part of it."
Schneider Electric's Reele agrees that there will be fundamental differences in these new edge data facilities with which the industry is still grappling. He believes his company has the expertise to share there as well.
"Data centers have been forever engineered for humans to be in them -- security guards, IT professionals, electrical professionals, mechanical professionals, Reele notes. "If we are going to go to all the cell towers, hypothetically, there is going to be one at every tower, that's 250,000 locations -- do you think we are going to put a security guard at every one? An IT guy at every one, a mechanical/electrical guy? Therefore, the autonomous edge requires the different engineering, a different operational and a different maintenance model in order for it to be maximized efficiency. We think we are a world leader in understanding and developing the entire model, the lifecycle model of the autonomous edge."
— Carol Wilson, Editor-at-Large, Light Reading