The "edge" is where it's at, apparently. You can't read more than two sentences into a telecom article lately without seeing a reference to the "edge."
This magical place is where service providers will be deploying new infrastructure so they can have more processing power closer to where data is being generated: think basestations, central offices and even the customer premises. No one disputes that having more compute, network and storage resources at the "edge" is a good thing. How else will services like 5G and IoT, not to mention AR/VR and connected cars, get the performance they need to make them functional and ultimately irresistible?
Not trying to rain on the parade or anything, but there are voices who are sounding the alarm before the first server or switch is deployed about how on earth will all those endpoints be managed. Remember, many of these locations will not have anyone there to respond to an outage, and some may be difficult to access at all. While more locations -- perhaps orders of magnitude more -- presumably mean better service performance, it also means more devices that someone needs to install, monitor, maintain, troubleshoot, and so on.
During Light Reading's "NFV and Carrier SDN: Automation and Monetization" event on September 24-26 in Denver, I'll be leading a panel discussion: Operations at the Edge: More Locations, More Problems. This panel includes speakers from Equinix Inc. (Nasdaq: EQIX), NetScout Systems Inc. (Nasdaq: NTCT) and ADVA Optical Networking and we will discuss the edge computing challenges that have already been identified, and the concerns yet to be addressed.
In my survey on data center transformation last fall, we asked CSPs about how they plan to manage distributed resources. Here's what they said: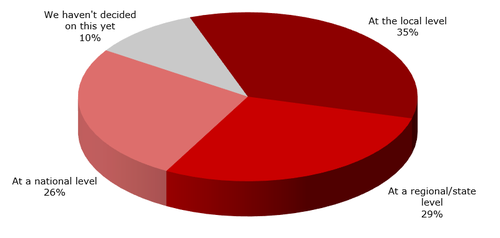 At this stage of the game, it's not terribly surprising that there isn't more consensus on this issue. What these results say to me is that no one really knows how best to manage these distributed resources, making now the perfect time to put everything on the table. The sooner we understand the issues, the sooner we can address them.
---
Deep dive into real-world issues and virtualization deployment challenges with industry leaders. Join Light Reading at the NFV & Carrier SDN event in Denver, September 24-26. Register now for this exclusive opportunity to learn from and network with industry experts – communications service providers get in free!
---
As with any super-hyped topic, we will continue to see more discussions about what the "edge" will do for the industry -- and rightfully so. Let's just make sure we don't overlook the real and potentially significant challenges that come with this move so the industry doesn't get tripped up on its way there. I hope you'll join the discussion at Light Reading's NFV & Carrier SDN event in Denver on September 24-26. You can register for the event here, and it's free for service providers to attend.
Related posts:
— Roz Roseboro, Principal Analyst, Cloud Infrastructure and Management, Heavy Reading